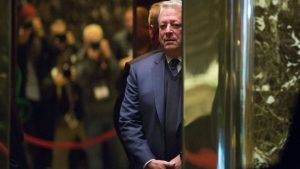 Former Vice President Al Gore has met President-elect Donald Trump and his daughter Ivanka Trump to discuss climate policy.
The meeting "was a sincere search for areas of common ground," said Mr Gore, a climate change activist.
During his presidential campaign, Mr Trump called man-made climate change a "hoax" perpetuated by China.
His daughter Ivanka reportedly wants to make the subject one of her signature issues.
It is unclear what role she will have in her father's administration, but he had said that his children would take over his global business interests.
All three of Mr Trump's adult children are serving on his transition team.   Continue reading →