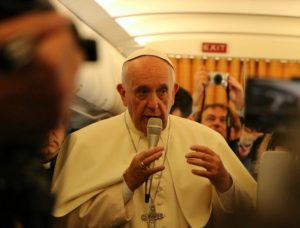 "I do not believe it is right to identify Islam with violence," the Pope told journalists during the July 31 papal flight to Rome following his apostolic journey to Poland. "This is not right and it is not true." "I don't like to speak about Islamic violence," the Pope said, taking into account that one sees violence every day in the newspapers, even at the hands of baptized Catholics. "There are violent Catholics!" he said. "If I speak of Islamic violence, I must speak of Catholic violence." –Source
Finally, this Jesuit ordained Pope admits that he doesn't see the violence of Islam as being an issue. And he even goes so far as to use his own flock as a way to belittle or downplay the violence of Islam. Of course, he's doing so in a way that suggests violent Catholics are only those we see in bar room brawls. He won't mention the Roman Catholics killing people in Mexico that refuse to convert, or even the burning of the dead bodies of their victims that refuse to bow to the Pope. He doesn't mention the 1260 years wherein the Catholic church and all civil leaders that were Roman Catholic killed hundreds of millions of Christians and he certainly isn't going to declare Catholics violent as his priests continue to violently rape little boys. Nor will he mention any of the violent acts done by his predecessors. The list of Vatican violence is so far off the chart just naming a few as I just did won't even amount as a pimple on mountain of evidence compiled exposing them.
For the Pope to claim Islam, who aren't as well hidden from the media as the Vatican is regarding their violent ways is appalling for many reasons. But for the sake of keeping this brief, I see two main reasons he said this. #1, he must uplift his flock and by flock I mean Islam because his predecessors not only wrote the Koran, they demand the Muslims bow to their authority and even demand they salute the Popes of Rome on camera. But #2 is the clincher on this one. This Pope who took the Jesuit oath, which is hands down the most violent and bloody oath ever penned by demon possessed men, he doesn't look at the Muslims who slowly saws off the heads of Christians because the demons in the Pope are very pleased with all this. Yes, that is a no-brainer for demons to love killing Christians, but why does the Pope himself see the killing of Christians as a nonviolent act? Besides the fact this is nothing more than just another propaganda statement designed to uplift Islam around the world, notice what his ordained predecessors says about murdering Christians in the past. When you see this you will see why he really doesn't see their bloody acts as being violent at all.
"The Catholic Church has persecuted … when she thinks it is good to use physical force she will use it… Will the Catholic Church give bond that she will not persecute?… The Catholic Church gives no bonds for her good behaviour." –Western Watchman, Dec. 24, 1908
"The church may by divine right confiscate the property of heretics, imprison their person, and condemn them to flames.  In our age, the right to inflict the severest penalties, even death, belongs to the church.  There is no graver offense than heresy, therefore it must be rooted out." – Public Eccliastical, Vol. 2, p.142.
Mr. Raywood Frazier, in the booklet "Catholic Words and Actions," presents documentary proof of the intensive persecution of Protestants and non-Catholics in Columbia, South America, between 1949 and 1953. The Catholic Church had the support of the Columbian government in the destruction of many churches, and the liquidation of more than 1,000 documented cases — some of whom were shot, drowned, or emasculated. He says there is evidence of over 60,000 killed. Pope Pius XII awarded the President of Columbia with one of the highest awards which the Church bestows, and praised Columbia for its example of the Catholic faith." (Pp. 59,60) (Click here for many more quotes like this)
So yes, this Pope will never see Islam as violent because he doesn't see killing Christians for their faith as being a violent act at all because in Catholicism, that is the long prophesied norm. Since their dying god sees it as normal and nonviolent, they will see it as such as well. Hence the reason the Catholics (like Muslims) beat themselves bloody every year on camera. And by the way… what does the Bible say about the Pope's "good behaviour?" The Christian Bible says in Luke 3:14 that we should "Do violence to no man." Not only does that statement of John the Baptist make the Pope's words appear as evil as evil can get. John said "do violence to no man" to an actual Roman soldier no less! That's right, this Pope even denies his Pagan ancestors as being out of touch with reality when it comes to how some with common sense would actually define the word "violence."