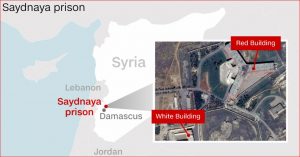 A chilling new report by Amnesty International exposes the Syrian government's calculated campaign of extrajudicial executions by mass hangings at Saydnaya Prison. Between 2011 and 2015, every week and often twice a week, groups of up to 50 people were taken out of their prison cells and hanged to death. In five years, as many as 13,000 people, most of them civilians believed to be opposed to the government, were hanged in secret at Saydnaya.
Human slaughterhouse: Mass hangings and extermination at Saydnaya prison, Syriaalso shows that the government is deliberately inflicting inhuman conditions on detainees at Saydnaya Prison through repeated torture and the systematic deprivation of food, water, medicine and medical care. The report documents how these extermination policies have killed massive numbers of detainees. 
These practices, which amount to war crimes and crimes against humanity, are authorized at the highest levels of the Syrian government.
"The horrors depicted in this report reveal a hidden, monstrous campaign, authorized at the highest levels of the Syrian government, aimed at crushing any form of dissent within the Syrian population," said Lynn Maalouf, Deputy Director for Research at Amnesty International's regional office in Beirut.
"We demand that the Syrian authorities immediately cease extrajudicial executions and torture and inhuman treatment at Saydnaya Prison and in all other government prisons across Syria. Russia and Iran, the government's closest allies, must press for an end to these murderous detention policies.
"The upcoming Syria peace talks in Geneva cannot ignore these findings. Ending these atrocities in Syrian government prisons must be put on the agenda.The UN must immediately carry out an independent investigation into the crimes being committed at Saydnaya and demand access for independent monitors to all places of detention."
The report reveals a routine of mass extrajudicial executions by hanging inside Saydnaya prison that was in place between 2011 and 2015. Every week – and often twice a week – victims were hanged in groups of up to 50 people, in the middle of the night and in total secrecy. There are strong reasons to believe that this routine is still ongoing today. Large numbers of detainees have also been killed as a result of the authorities' extermination policies, which include repeated torture and the systematic deprivation of food, water, medicine and medical care. In addition, detainees at Saydnaya Prison are forced to obey a set of sadistic and dehumanizing rules.
The findings of the report are based on an intensive investigation, which was carried out over the course of one year, from December 2015 to December 2016. It involved first-hand interviews with 84 witnesses that included former Saydnaya guards and officials, detainees, judges and lawyers, as well as national and international experts on detention in Syria.
A previous report published in August 2016, for which Amnesty International partnered with a team of specialists at Forensic Architecture, University of Goldsmiths to create a virtual 3D reconstruction of Saydnaya prison, estimated that more than 17,000 people have died in prisons across Syria as a result of the inhuman conditions and torture since the Syrian crisis began in 2011. This figure does not include the estimated 13,000 additional deaths as a result of the extrajudicial executions exposed in this report.
The role of the Military Field Court
Not one of the detainees condemned to hang at Saydnaya Prison is given anything that resembles an actual trial. Before they are hanged, victims undergo a perfunctory, one or two-minute procedure at a so-called Military Field Court. These proceedings are so summary and arbitrary that they cannot be considered to constitute a judicial process. Testimonies from former government officials, guards, judges and detainees helped Amnesty International shape a detailed picture of the farcical procedures that lead up to the hangings.