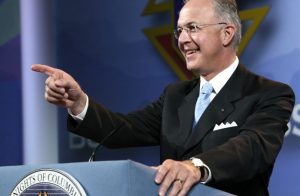 ROME – Pope Francis on Thursday met with Carl Anderson, Supreme Knight of the Knights of Columbus, who presented the pope with a $1.6 million donation and also discussed his organization's efforts on behalf of persecuted Christians in the Middle East.
The Knights of Columbus have played a lead role in raising consciousness about the realities of anti-Christian violence around the world. Among other things, a report prepared by the Knights was instrumental in triggering a finding from the U.S. State Department in March 2016 that Christians, Yazidis and other minorities are the victims of an ISIS-led genocide in Iraq and Syria.
The Knights of Columbus, the largest Catholic fraternal organization in the world, are also the primary partner of Crux.  
The $1.6 million donation presented by Anderson to Pope Francis comes from the group's "Vicarius Christi" fund, given annually to the pope to support his personal charities. Since its inception in 1981, the fund has donated more than $57 million to support the charitable activities of three popes, St. John Paul II, Benedict XVI, and now Francis.
The Knights of Columbus were founded in 1882 by Father Michael McGivney, a parish priest, in New Haven, Connecticut, who is now a candidate for sainthood.
The organization was formed to provide charitable outreach and care for the financial well-being of Catholic families, focusing on the protection of widows and orphans, and on strengthening the faith of its members. It has grown to count 1.9 million members worldwide.
Last year, the Knights of Columbus reported a new all-time record for charitable giving with more than $175 million in donations and more than 73.5 million hours of service.
Anderson's audience was part of a busy morning for the pontiff, who also received Italian Cardinal Beniamino Stella, prefect of the Congregation for Clergy; Cardinal Lluís Martínez Sistach, the archbishop emeritus of Barcelona in Spain; Cardinal Antonio Maria Vegliò, the president emeritus of the Pontifical Council for Migrants and Refugees, which has been absorbed into the Vatican's new Dicastery for Integral Human Development; and a delegation from Special Olympics International.