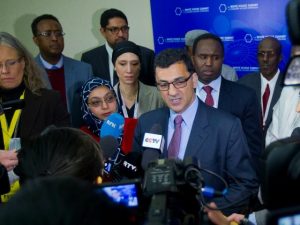 "Administration officials have eliminated 2016 plans to fund Islamic groups allied to former President Barack Obama, and declined to schedule a 2017 Islamic 'Iftar' dinner where those groups were able to show their political influence to the ambassadors of wealthy Islamic countries. The turnaround was made public on Friday when the Department of Homeland Security announced a revised list of the organizations which are getting DHS funds to help prevent young Muslims from becoming jihadis. The new list replaced an Obama list announced January 13, 2017, and it dropped a $800,000 grant for an Islamic seminary in Los Angeles, and a $393,000 grant for a linked organization, the Muslim Public Affairs Council Foundation." –Source
This is by far, too little too late. In fact, it's all a farce as the DHS is still allowing Muslims to be funded and schooling some to supposedly "prevent young Muslims from becoming jihadis." The fact we now have over 35 Islamic military training compounds on US soil right now shows, this is all propaganda. Why doesn't the DHS shut them down? But then this is the so called unbiased DHS talking now. If they were unbiased under Obama and saw a genuine threat to homeland security, they never would have allowed Muslims into the nation under Obama or any president for that matter. Because as Obama, Clinton and the Bush family proved in just the last few decades alone, some US Presidents are all about helping those that will destroy America.  
And why do I say that?
Some think it all started with President George H.W. Bush (President #1) and they are partially correct more than they realize. Truth is, the problem was already made very apparent to students of prophecy long before that when the Vatican was allowed a say in American politics after the prophesied meeting of 1929 wherein the Papal head wounded started to scab over. And the reason I said Bush was part of the problem is because his father Prescott Bush is the one that worked hand in hand with the Pope in Rome to bring Hitler to power. No, most in political power won't acknowledge the Pope's role in any of this, but then that's not surprising since this is how Rome came to power eons ago; and so it won't change today because as with anything else, good or bad, it's as the old saying goes. If it ain't broke don't fix it. In fact, this is why they also refuse to declare the Popes of Rome wrote the Koran and are the very ones helping Islam kill Christians and Jews today just as they did with Hitler in his day. The powers that be today owe all their power to the Pope as prophesied and this is why they bow to him on camera.
By the way, the Department of Homeland Security is nothing more than a Nazi invention of Rome that George W. Bush emulated after September 11. Directly after Hitler burned his own Reichstag building he invented his own "homeland security" claiming it was there to protect his nation from Communists. The grandson of Prescott Bush, which was none other than President George W Bush, did the exact same thing on September 11. We now have overwhelming proof the United States government brought those towers down and even sent a cruise missile into the Pentagon so as to create a department of "homeland security" to supposedly protect Americans from the Islamic hordes that attacked us. But common sense dictates that if the Muslim truly were the ones that did it, why have the floodgates been wide open for decades letting them into our nation ever since then? And why has the Pope spearheaded the Christian/Islamic positive relations campaign wherein every church under his control (including the SDA church) now declares Allah is God? And why is it since the Pope started to declare Islam a "religion of peace" that the terroristic attacks went off the charts? It's because once said the Muslims that are loyal to the Pope knew he was sanctifying their next move. In short, they are all working from the same transcript the Pope in Hitler's day penned under direction of Satan that will create the New World Order needed to enforce the mark.
Not only did the open borders allow Muslims to come in and set up shop and even sleeper cells all over our nation just waiting for the Pope they salute to go forth as they have been doing in Europe on a weekly basis, the Mexican Roman Catholics have also flooded in so as to allow the Popes the massive voting bloc needed to do as they boasted they will do all alone.
"The old Protestant culture is about at the end of its rope… Why can't we make the U.S. Catholic in legislation, Catholic in justice, aims and ideals?" –Father F. X. Talbot, editor of America, official Jesuit magazine for the U.S. statement in New York Globe Dec. 14, 1930
"But Constitutions can be changed, and non-Catholic sects may decline to such a point that the political proscription [ban] of them may become feasible and expedient. What protection would they have against a Catholic state?" –The State and the Church, pp.38,39, by Miller and Ryan, imprimatur of Cardinal Hayes
"The Roman Catholic motto is ourselves alone for fellow Roman Catholics. We must defeat all heretics (non Catholics) at the ballot box. The holy father states that negative tactics are fatal. The demands of the holy father (the pope) are that the public services should be 100% Roman Catholic soon. Care must be taken that no suspicion may be raised when Roman Catholics are secretly given more government jobs than Protestants, Jews and other heretics." -Archbisop Gilroy
Now do you see why the General under President George Washington stated the following long ago? He said "If the liberties of the American people are every destroyed, they will fall by the hand of the Roman Catholic cult's clergy."  –General Lafayette under President George Washington
Amazing how edited our classroom history books are eh?
For the DHS formed under direction of the Pope in 2001 to act like they are "finally" protecting us from Muslims today is nothing more than what we see with men like Alex Jones or any other Jesuit coadjutors doing. They act like they are in our corner so as to keep the people on their couch; but all along enemies of the innocent they hope to corral, subjugate and destroy. Only under a Vatican Socialist State can the mark be enforced and so it will be.
Now that there are just enough Muslims and Catholics within our borders to finish the job, Trump and his Vatican approved DHS can claim to shut down Muslim infiltration on American soil so as to rally more support from the sheeple that have been well conditioned by Hollywood, Sports and the government schools. And we must not forget the prisons wherein we see Muslim terrorists like Michael Adebowale who murdered Lee Rigby teaching dozens of prison inmates on how to kill Christians who then actually vow to commit Islamic Jihad in America the moment they are released from prison. So again.. I say it's too little too late for the DHS to claim they are defunding Muslim organizations in the United States. All they're doing by disinviting Muslims now is saying we have enough here in America to do what the Pope needs done under his fourth Reich.
Additional Articles Confirming we are in the Last Days:
Ramadan Rage 2017: Deaths Reach 1,627, Marking One of the Bloodiest Islamic Holy Months in Recent Memory * Restaurant ordered shut for serving Christians during Ramadan * 30 GOP Congressmen Have Been Attacked or Threatened Since May * Mexico's monthly murder rate reaches 20-year high * VIDEO: Dashcam Footage Shows Minnesota Cop's 'Brutal Attack' On Asian Driver * WOW:VIDEO: Judge Jeanine: Dems have normalized violence against Trump * VIDEO: Nurse committing euthanasia: It was the most soul-wrenching thing I ever discovered * Supreme Court Reinstates Trump Travel Ban from Muslim-Majority Countries * DHS John Kelly Defunds, Disinvites Islamic Groups Favored By Barack Obama * VIDEO: Couple Brutally Beats Restaurant Owners Over Food Order * Bernie and Jane Sanders Lawyer Up as FBI Probes Financial Fraud at Burlington College * NY Eighth Graders Failing Common Core Math Tests Tripled Since Testing Began * Terrorist Who Murdered Lee Rigby Radicalises Dozens of Prison Inmates Who Vow Jihad on Release * Little children MESMERIZED by drag queens in American Schools! * VIDEO: Texas Mom Left Kids in Hot Car to 'Teach Them a Lesson,' Says Sheriff * VIDEO: Arctic outpost becomes hotbed of Russian military activity