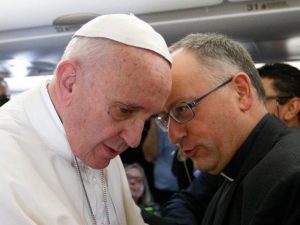 "In a peculiar, rambling essay, papal adviser Father Antonio Spadaro SJ has caricatured white southern evangelicals as well as conservative American Catholics as ignorant, theocratic, Manichean, war-mongering fanatics anxiously awaiting the apocalypse. …Conservative Christians, the article warns, are ultimately driven by "the desire for some influence in the political and parliamentary sphere and in the juridical and educational areas so that public norms can be subjected to religious morals." …They write that the American tendency to view the world in terms of good and evil and to mingle "politics, morals and religion" dates back to the beginning of the 20th century, with the publication of Lyman Stewart's 12-volume work, The Fundamentals." –Source
So, let me get this straight. The Pope's head advisor, who is also a bloodthirsty Jesuit, and I do not say that in a sarcastic manner. They both took the Jesuit oath in order to declare themselves to be Jesuits. And so with that in mind, this Jesuit is upset because some Christians in the south, who are by majority to this day to have yet to forget why America was truly founded; which was to escape the Vatican Inquisitors that used their religio/political State to torture and kill hundreds of millionsof Christians that refused to worship the Pope and his Pagan dogma, these American Christians of the south are now (according to Jesuits) the evil ones in today's world because they want to influence their government by prayer and by using a religious tone in life since our nation was in fact founded on Christian principles?
The pot calling the kettle black?!
This Jesuit needs to stop echoing blood curdling oaths, Vatican transcripts and Jesuit authors and start doing a little more research into what his church really stands for. Well.. ok.. I say that for the benefit of those readings because since he is a Jesuit he knows all too well how to play the two ends against the middle so as to gain the upper-hand in political banter. Reality dictates he is upset that nonCatholics are trying to stand firm in their faith with the hopes of moving their political leaders to do the same for God and country. That all being said, need I remind you Mr Spadaro about the following quotes from your own political / church leasers? And before reading, keep in mind none of them spoke as Americans on American soil with American citizenship when huffing and puffing forth their proVatican agendas.
And yes, for those of you that can see the forest for the trees that are reading this now, this is why the Pope and his cronies need a one world Government. They know they have no say so when speaking from a foreign land (Vatican City) when it comes to American ideals. Yes they can say the political leaders with palms out, but the people they supposedly represent? Not so much. And so, under their long prophesied New World Order, all sovereignty is gone and they can and will do just as prophecy predicted so as to assure the Vatican mark is enforced. Only problem is, prophecy also predicts they have already lost!
"The Roman Catholic motto is ourselves alone for fellow Roman Catholics. We must defeat all heretics (non Catholics) at the ballot box. The holy father states that negative tactics are fatal. The demands of the holy father (the pope) are that the public services should be 100% Roman Catholic soon. Care must be taken that no suspicion may be raised when Roman Catholics are secretly given more government jobs than Protestants, Jews and other heretics." -Archbisop Gilroy
"But Constitutions can be changed, and non-Catholic sects may decline to such a point that the political proscription [ban] of them may become feasible and expedient. What protection would they have against a Catholic state?" –The State and the Church, pp.38,39, by Miller and Ryan, imprimatur of Cardinal Hayes.
"The Catholic Church in this nation must live on to accomplish her work, even though our Republican form of government disappears." –The Catholic World,April, 1935, p.12. "
They [Catholics] must penetrate wherever possible in the administration of civil affairs… all Catholics should do all in their power to cause the constitution of states, and legislation to be modeled on the principles of the true Church." –Encyclical of Leo XIII.
Now do you see why our political leaders in our nation's birth were very adamant about how they penned our constitution? They knew all too well about how evil the Popes of Rome really were. In fact, as also prophesied in 2 Thessalonians 2:3 everyone alive back then knew because all of them read their Bibles and all of them fled to this nation seeking religious freedom from the long prophesied beast in Rome that hates, tortures and kills Christians. Proof? Notice what George's Washington's General said in writing back then…
"If the liberties of the American people are every destroyed, they will fall by the hand of the Roman Catholic cult's clergy."  –General Lafayette under President George Washington
It was so well known that publishing a statement like this would never cause any public outcry against it. For every soul alive at the publishing of that statement lost loved ones and even saw some die at the hands of Catholic priests. And how have times changed eh? And yes, we know all about how prophecy predicted it would change and the second beast (the USA) would help the Vatican regain her power after the prophesied 1929 meeting in the Lateran Palace. But for those that want see how quickly times changed? And this may be especially shocking to those that worship Ronald Reagan and think he could do no wrong; notice what one of his cabinet members said after being asked why Reagan felt the USA needed an ambassador to Vatican City.
"It would allow the USA to influence the political decisions of the ROMAN CATHOLIC CHURCH!" –W. Kenneth Dan
THAT LITERALLY VIOLATED THE FIRST AMENDMENT!
AMENDMENT I. :
Religious establishment prohibited. Freedom of speech, of the press, and right to petition. Congress shall make no law respecting an establishment of religion, or prohibiting the free exercise thereof; or abridging the freedom of speech, or of the press; or the right of the people peaceably to assemble, and to petition the Government for a redress of grievances.
One last thing, the Pope's advisor hatefully described the southern Christian people in America by saying they were "war-mongering fanatics anxiously awaiting the apocalypse" in the article. Why did he say that? The Jesuits know how little time their dying god has to fill his trophy case with obedient souls and so they hate anyone that states the end is soon to come because that sparks and interest in the hearts of many for repentance just as John the Baptist did and we that also have the same message to prepare a people of the Lord right before the end. In fact, this is why the unbiblically declared "Saint" Pope John Paul II himself stated in 1998 that "the end is not yet nigh!" He knew the efforts of God's obedient people were getting some in his church to leave and so to prevent a mass exodus, he lied openly to all the world to keep his pews filled! Click here for the entire article on this.
MARANATHA!!!
Additional Articles Confirming we are in the Last Days: 
Christian Pastor Shot Dead Outside Church in India * Israel To Reopen Temple Mount With Additional Security Measures * ANOTHER Clinton Foundation witness found dead * GOP Spending Panel Invites Illegals to Get Government Jobs * Fishermen express fury as Fukushima plant set to release radioactive material into ocean * WHAT?! Having children is one of the most destructive things you can to do the environment, say researchers * FYI: Six major US airports now scan Americans' faces when they leave country * ANOTHER Vatican Scandal dealing with Children! * UK's First State-Funded Muslim School Taken Over by Govt After Pro-Rape Books Found * FYI: Amazon Considering Allowing Developers Access To Alexa Transcripts * VIDEO: Bernstein on Trump-Russia Collusion: 'We Are in the Midst of a Cold Civil War in This Country' * Union Demands Teachers Undergo Compulsory 'Gender Diversity' Training