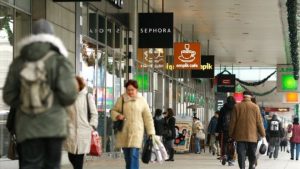 "Free Sundays are what all Catholics, non-Catholics and non-believers need," Archbishop Stanislaw Gadecki told Polish Radio ahead of a meeting of the Bishops Conference on Friday, which is expected to support the ban. The idea was put forward last year by the powerful Solidarity trade union, backed by a million-strong petition, and has been batted back and forth in a parliamentary subcommittee ever since. The clerics are careful to base their argument on quality of life rather than religious grounds. "Families don't just need financial support, they need time for themselves," said the Archbishop of Katowice, Wiktor Skworc." –Source
I just got word from a brother in the faith that lives in Poland that they plan to enforce the ban starting January 1, 2018. And no, this is not yet the enforcement of the mark of the beast. But it is a major stepping stone in that direction. As we just saw in a video I just made and then posted on YouTube yesterday titled, "1 Million to pray Rosary on Polish Border," as prophesied, Rome is doing all they can to normalize Paganism in the minds of billions of people so as to make Catholicism to appear as moral when in fact it is not. Having millions openly pray using Pagan prayer beads in public to having the entire nation of Poland to close their businesses on the ancient day of worship for the Pagan Sun god Baal is nothing more than a show of force on Satan's part. He knows his time is short and at the same time he knows he has most souls in his camp. So just as in Noah's day, most will believe the lies over the truth. And for those of you that think you would never agree to embrace Pagan rituals as the norm, you need to double check your current holiday activities a bit more. Not only has Rome moved all Christian churches to keep Sunday holy, they also take part in Pagan rituals most now call Christmas and Easter. 
Those of us that study prophecy know, Sunday laws will be enforced in the United States first. But what many fail to realize is how the powers that be must first normalize that act of open rebellion against the Christian God by declaring a day of worship He never sanctified, and they must do so worldwide. Yes, I am very aware most Christian have no idea how they are already in bed with Rome on this one. And so our work is cut out for us as we proclaim that loud cry prophecy speaks of. But for those of you that are Christian who keep Sunday holy, I implore you to read your Bibles and you will see the Lord declared in both the Old and New Testament that the seventh day Sabbath has been the "Lord's holy day" of worship ever since He created Angels who kept His law in Heaven long before mankind was ever created. But as we all know, prophecy must be fulfilled and so this will still happen and the overwhelming majority of Christians will ignore all this and receive the mark just as easily as they agree to dress up their Christmas trees and Easter eggs.
And for those that think I need to sit for a fitting for a tinfoil bonnet on this one, check out my Sabbath attack page wherein I have well over a thousand videos, articles and doc files proving the Roman Catholic Popes are doing everything they can to push for Sunday Laws globally just as the prophecy said they would. In fact, they have even gone so far as to declare Nazi war criminal Pope John Paul II a "saint" so as to have him supposedly "speak from heaven" via his Dios Domini wherein he declared, and I quote, "Christians will naturally strive to ensure that civil legislation respects their duty to keep Sunday holy." And so yes, Sunday Laws are in fact prophesied! And according to the Roman Catholic Church, they admit in writing that Sunday Sabbath is their MARK just as the Bible said they would. See the quotes and doc files confirming that on my mark of the beast page.
And if you still think this is all a prophetic pipedream of crazed students of prophecy seeking an audience, besides the fact the majority of all Christian churches already keep Sunday holy without a single Bible verse to back up their Roman invention of Sunday Sabbath, were you aware that the Jews already agreed to keep Sunday holy for the Pope as well as desecrate the true Sabbath as of April 21 of this year? And were you also aware that Seventh Day Adventists have dozens of Sunday keeping churches and their Conference leaders declare "it's no big deal" for them to do so? Christian prophecy will be fulfilled no matter if you're ready for it or not. But it is the prayer of this ministry that you do in fact get ready to meet the Lord Jesus Christ very soon.
Additional Articles Confirming we are in the Last Days: 
Christian graphic designer fights state forcing her to promote LGBT weddings * Atheists offended by cross a thousand miles away * Satanists: How to force (weak) Christians to violate faith * Former Google Employee Engineering His Own A.I. Religion * Ex-U.N. ambassador named in 'unmasking' lawsuit * Rescuing boy from burning truck leads to charges? * VIDEO: Family Attacked By Teens Who Cut In Line At Six Flags "Fright Fest" * Escape from Venezuela: Colombia border crossing mobbed as starving citizens flee * VIDEO: Teacher to 'hail Satan,' pastor vows sledgehammer * Mom facing jail over refusal to vaccinate son * VIDEO: After two major Earthquakes, a Volcano now threatens Mexico City * YouTube is cracking down on external links in videos