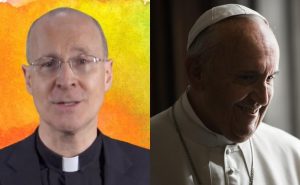 Vatican consultant and homosexual activist priest Fr. James Martin stated at a recent conference that Pope Francis has gone out of his way to appoint "gay-friendly" bishops and cardinals in the Catholic Church.
Speaking at the Ignatian Family Teach-in for Justice 2018 in Washington D.C. on Saturday evening, the Jesuit priest and America magazine editor-at-large told students that "things are changing" in the Church regarding homosexuality under Francis' watch.
"…Just look at what has happened in the last five years–since Pope Francis has been elected," he said.  
"First of all, Pope Francis's comments about LGBT people like 'Who am I to judge'. His five most famous words were in response to questions about gay people, right? He's the first pope to use the word 'gay', you know, in a sentence," Martin continued.
Martin emphasized Pope Francis's relationships with people who identify as LGBT. He pointed out how the Pope has appointed bishops and cardinals who support the homosexual agenda.
"He has gay friends. He's talked about wanting gay people to feel welcome in the Church. That's a big deal. He has also appointed gay-friendly bishops and archbishops and cardinals, like Cardinal Tobin, the archbishop of Newark who, for example, held a 'Welcome Mass' for LGBT people in his Cathedral… So that's one trend,' Martin said.
The Jesuit priest noted that Francis' words and actions show the pope's commitment to advancing homosexuality within the Church. "What Pope Francis says and does, right?" he said. "What he says about LGBT people and what he does in terms of who he appoints," he added.
Martin's statements about Pope Francis deliberately appointing "gay-friendly" bishops and cardinals — such as Joseph Tobin — become all the more significant when read alongside statements made by Archbishop Carlo Maria Viganò in August about Pope Francis going around normal processes to make such appointments.
About this, Viganò wrote: "The appointments of Blase Cupich to Chicago and Joseph W. Tobin to Newark were orchestrated by McCarrick, Maradiaga and Wuerl, united by a wicked pact of abuses by the first, and at least of coverup of abuses by the other two. Their names were not among those presented by the Nunciature for Chicago and Newark."
Basing her doctrine on Sacred Scripture, the Church teaches that homosexual acts are "acts of grave depravity" and are "intrinsically disordered" since they are "contrary to the natural law" in that they "close the sexual act to the gift of life."
"Under no circumstances can they be approved," States the Catechism of the Catholic Church.
St. Peter Damian, an 11th century Italian Catholic reformer and Doctor of the Church, described homosexuality in his famous Book of Gomorrah as a "diabolical" corruption of God's plan for sexuality between a man and a woman. Homosexuality must not only be not tolerated, but it must be condemned and stamped out, he wrote.
"This vice is the death of bodies, the destruction of souls, pollutes the flesh, extinguishes the light of the intellect, expels the Holy Spirit from the temple of the human heart, introduces the diabolical inciter of lust, throws into confusion, and removes the truth completely from the deceived mind…It opens up hell and closes the door of paradise…It cuts off a member of the Church and casts him into the voracious conflagration of raging Gehenna," he wrote.
Martin told his young listeners in Washington, D.C. this Saturday that the more "LGBT Catholics" who identify themselves as such, the more the Church will be affected by it.
"That trend is unstoppable," he promised.
As evidence, Martin presented his interpretation of the recent Synod on Young People, Faith, and Vocational Discernment, saying that it was a "big step forward."
"Last week, for example, at the Synod of Youth [sic] at the Vatican, they had a whole gathering of bishops and experts … to talk about young people. And LGBT issues were discussed there more openly than at any Synod in the past, right? That's a big step forward," he said.
"In their final document, the Synod delegates talked about accompaniment of LGBT people, listening to them, and acknowledge the work that many people in the Church do in ministering to this community."
Martin did not mention that the discussion of "LGBT issues" was limited to two of the small working groups, i.e. those of Cardinals Cupich and Maradiaga, or that the passage he paraphrased was the one most voted against by the harried prelates. He did, however, note that the Synod eschewed the ideological expression "LGBT" from the final document:
"…The Synod couldn't quite bring itself to use the term LGBT, preferring to stick with 'sexual orientation' in quotes," he said, "thanks to opposition mainly from places where LGBT rights aren't as far along, in some diocese in the US and particularly in sub-Saharan Africa and India."
"Overall, though, the Church has moved ahead on these issues…and is learning," he added. "The Church is learning."
Martin picked up the theme of the Church as learner again later in his talk when he told his young listeners that they themselves will teach the Church about "transexual experience, about gender non-binary students":
"Your generation, people in this room, will help the Church learn about these things," he said. "How else is the Church going to learn other than listening to experience from people?"
The priest told the youthful gathering that they were called into baptism not only for their salvation but "to help the Church learn."
He also suggested that the Church does not already love Catholics with same-sex attraction. According to an anecdote he shared, a fellow Jesuit told a young man with same-sex desires that "God loves you, and your Church is learning to love you."
This ignores almost 40 years of work by churchmen like Father John Harvey and his "Courage" ministry to help people with same-sex attractions live healthy lives of holiness and chastity, to say nothing of the Church's loving response to the HIV-AIDS crisis of the 1980s and 1990s. The Church has also refused to dehumanize people by defining them by their sexual appetites.
Martin was blasted by Archbishop Viganò in his first testimony concerning sexual abuse, cover-up and patronage in the highest echelons of the Church hierarchy. Noting Martin's exalted patronage in the USA, the hard-hitting diplomat called Martin a "sad recent example" of a "deviated wing" of the Jesuits.
"Father James Martin, S.J., acclaimed by … [Cardinals] Cupich, Tobin, Farrell and [Bishop] McElroy, appointed Consultor of the Secretariat for Communications, well-known activist who promotes the LGBT agenda, chosen to corrupt the young people who will soon gather in Dublin for the World Meeting of Families, is nothing but a sad recent example of that deviated wing of the Society of Jesus," Viganò wrote.