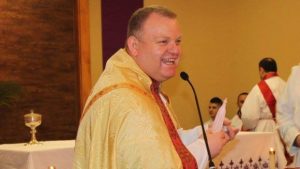 London police have charged a priest with defrauding more than $500,000 intended to sponsor Syrian refugees coming to Hamilton.
Amer Saka of London, a 51-year-old Chaldean priest, is charged with fraud exceeding $5,000 and possessing proceeds of crime. The investigation started in February.
Police allege Saka got money from more than 20 victims who thought they were sponsoring refugee families.
Saka is a priest at St. Joseph's Chaldean Catholic Church. The Roman Catholic Diocese of Hamilton said in March that it worried the money was gambled from a reserve for a private sponsorship program that has already brought 11 refugees to the city. It was supposed to help settle as many as 40 more.
Saka had been involved in the refugee sponsorship program for about eight years, privately sponsoring Iraqi refugees. The diocese has already suspended him.
Police laid the charges on Wednesday. It spanned throughout Ontario and the U.S., and other countries where refugees were attempting to come to Canada, police said in a statement on Thursday.
Otherwise, Const. Sandasha Bough wouldn't elaborate on the location of the victims. "We're not saying specifically what areas the victims are from."
In a statement to CBC Hamilton, Bishop Douglas Crosby said the diocese is committed to supporting the refugees in the sponsorship program, "including those whose sponsorship may have involved Father Saka.
"I assure all who have contributed to the sponsorship program that the Diocese of Hamilton intends to continue its long established and important work in sponsoring refugees," Crosby said.
The diocese won't comment more because the matter is before the courts, he said.  SOURCE