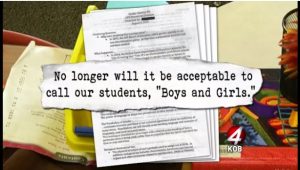 Teachers at Carlos Rey Elementary School in Albuquerque, NM are now being told they can no longer address their students as "boys and girls," local NBC affiliate KOB reports.
This comes after the new transgender bathroom policy for Albuquerque Public Schools, but it is now leaking into the classroom.
A letter was sent to teachers at Carlos Rey this month titled "Gender Identity Procedural Directive." It tells teachers they can no longer refer to their students as boys and girls, and they are to eliminate gender in their classrooms.
Albuquerque Public Schools say it was a complete mistake by the assistant principal because nowhere in their transgender policy does it say to not call students boys and girls.
Sources at Carlos Rey Elementary told KOB to continue with that policy.