"The New York Police Department is allowing Sikh officers to wear full turbans in place of the traditional police cap and grow beards up to a half-inch long as required by their religion. …It's a major change in our uniform policy, so we had to go about it carefully. And now I have the opportunity to make the change, and I thought it was about time that we did that. O'Neill said the NYPD has about 160 Sikh officers. …Sikh advocates praised the NYPD's decision to be more inclusive. If the NYPD's new policy indeed allows for Sikhs to maintain unshorn beards and turbans, that sends a powerful message to the rest of America that Sikhs are an important part of our nation's fabric," Harsimran Kaur, legal director of The Sikh Coalition, told NBC News in a statement." –Source
ARTICLE #2
Muslim and Sikh NYPD officers can now wear beards and turbans
"Muslim and Sikh officers in the New York Police Department will be allowed to grow out their beards and wear turbans while in uniform, the NYPD announced on Wednesday. Under the new policy, outlined by NYPD Commissioner James P. O'Neill, officers who are granted a religious accommodation from the department's Equal Employment Opportunity Office will be able to grow beards that extend up to half an inch from the face, and may also wear a blue turban with a hat shield in lieu of a traditional police hat. Previously, officers with a medical or religious accommodation were permitted to grow a beard no longer than one millimeter in length, a policy that came under review after a Muslim officer filed a federal class-action lawsuit in June." –Source
Doesn't that make you all warm and fuzzy inside knowing New York's finest is promoting a religion as part of a local government entity? That's right, the New York Police department, like any local or State department is funded by the United States Government who students of prophecy know is the second beast of Revelation that uplifts, promotes and demands all to bow in worship of the first beast in Rome. And so, even though any Christian, Buddhist, or Jewish citizen that wanted to display a "religious" symbol in the NYPD they would not be allowed that option sighting the NYPD's church & state separation policies. But if you're part of a religion that kills Christians, Buddhists, and Jews as well as one that has been promoted by the very same government to have toppled the New York city skyline on September 11th, then by all means, let them have their way. And isn't it a bit suspicious that while this is happening in New York, Kerry's pro-Islam speech is being embraced as a good thing by the very nation (Saudi Arabia) Wikileaks just exposed as the main source of funds for all the Islamic terrorist groups around the world.
Or what of this article that just came out wherein the headline reads, "NYT Gushes Over Churches Offering 'Sanctuary' to Migrant Felons." Or the video that just came out today that shows a School taking Christian kids to pray at a mosque?! Looks like an Islamic lovefest does it not?
We now have the NYPD allowing Muslims to stand in authoritative power over the people wearing religious garb, we have John Kerry making Muslim leaders drool over his pro-Islam speeches, we have a Christian school in the Netherlands bowing to Allah in a Mosque, (just like SDA students) we have the last 3 popes promoting Islam worldwide, and now you have the New York Times gushing over the Jesuit churches that offer the Muslims sanctuary. And yes, the church they took the picture in was Jesuit owned and operated. Notice the IHS in that cross on the altar? That is the main Jesuit logo. And yes, it's Pagan to the core.
Students of prophecy know all too well what's up here. Having a Muslim in religious garb carrying a gun is a very effective way for Rome to declare who they plan to merge into American society as authority figures as well as having the churches sanction Islam as if it's a religion of peace. That way they can covers the religious and secular end of society just as prophecy predicted. Just one more smoking gun as to why all the churches in America have the 501c3. If they refuse to do as the Government says, they will be shut down. The only good that can come out of this has to be those that keep laughing out loud about our claims that Muslims will soon man the 30,000 guillotines on US soil. Compile all this with all the other prophesied facts we have shared the last few decades and one can only hope that soon the scoffer himself will start to agree that Christian prophecy is really that accurate. And no, you don't have to be a prophet to know the prophetic Word. All you need to be is an obedient Christian to understand what your Lord is saying.
And just so you know. Yes, Rome is behind all this. See my Pope and Islam page on the site. If that doesn't convince you, perhaps looking into the evidence that the Popes wrote the Koran will help enlighten you. If you needeven more proof, during all that I just mentioned that happened today alone, check out this article that came out today as well. It's about a Roman Catholic priest in Italy dressing their plaster idol they call Mary in a Muslim burqa! Everywhere you look you see Rome pushing their loyal blood curdling henchmen as if they are the most loving peaceful people on earth. But then this is Rome we're talking about. When they use the term "peace" they actually mean war. (See Daniel 8:25) When they say "I love you" they actually hate you to the core. And when they claim to be Christian they actually mean Pagan. In fact, look at the pic of their so called "baby Jesus" in that article. Why is it that little idol still sports the Pagan halo about his head but Mary is now in a burqa?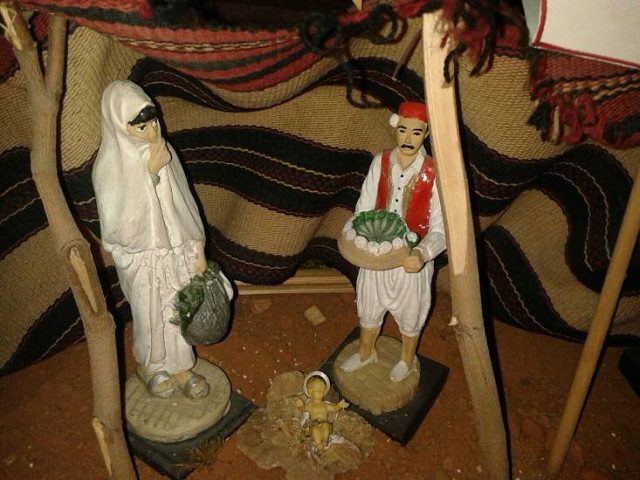 PS.. check out the new video I just posted in the next post below this one. It may clarify all that's happening.
Additional Articles Confirming we are in the Last Days: