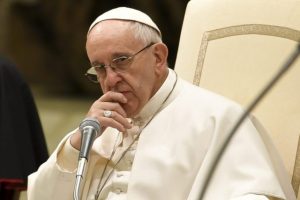 Pope Francis appealed Wednesday for the Rohingya, a Muslim minority group forced to flee violence and persecution in Myanmar.
The pope singled out the group during his weekly audience at the Vatican, asking pilgrims to pray with him "for our Rohingya brothers and sisters who are being chased from Myanmar and are fleeing from one place to another because no one wants them."
"They are good people, they are not Christians, they are peaceful people, they are our brothers and sisters. And for years they have been suffering. They are being tortured and killed, simply because they uphold their Muslim faith," Francis said as he marked the church's International Day of Prayer and Awareness Against Human Trafficking.  
The pontiff asked the 7,000 pilgrims gathered in the Paul VI Hall at the Vatican to pray with him for all exploited and humiliated migrants, and especially the Rohingya.
The pope also called on governments to do more to fight trafficking around the world, particularly of young children and adolescents.
"I urge all those in government positions to combat this scourge with firmness, giving voice to our younger brothers and sisters who have been wounded in their dignity. All efforts must be made to eradicate this shameful and intolerable crime," he said.
A damning U.N. report released Friday accused security forces in Myanmar of committing serious abuses against the Rohingya, including sexual violence, beatings and child killings.
The report was based on interviews with more than 200 Rohingya refugees who fled from Myanmar to Bangladesh.
"I call on the international community, with all its strength, to join me in urging the leadership in Myanmar to bring such military operations to an end," U.N. High Commissioner for Human Rights Zeid Ra'ad Al Hussein said:
Human rights groups have urged Myanmar's government to back an independent international investigation into alleged abuses by security forces against the Rohingya minority.
About 1.1 million Rohingya live in northwestern Myanmar, also known as Burma, but they are denied citizenship. Many in Buddhist-majority Myanmar regard them as illegal immigrants from Bangladesh, even when their families have lived in the country for generations.