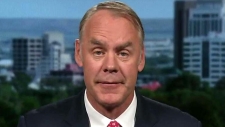 "On 'America's Newsroom,' the secretary of the interior defends President Trump's decision to exit Paris accord…" –Source
As I said in videos and blog entries, Trump caved long ago on this but not as many can tell as of yet it seems. He has been saying since day one in his presidential campaign that climate change is a hoax. But almost immediately after being elected president his daughter Ivanka is granted the lead position in the White House climate change department. If it's a hoax and he plans to walk away laughing; why is his daughter doing as he denies? Why is he allowing US tax dollars to be spent on what he called a hoax? 
It's as I've been saying since day one of his campaign when he first declared the truth that it was a hoax, prophecy confirms they will use the climate change agenda to get all the nations in bed with Rome so as to have a global reason to enforce "certain laws." And these laws will be used to police every single citizen on the planet. Never before in the history of mankind has there been such a suggestion (outside of Christian prophecy that is) wherein the overwhelming majority of nations on earth agree with as we see 175 nations doing right now. According to the Bible it is only prophesied to be as such when the mark of the Vatican beast is enforced and this is why students of prophecy can easily declare Trump is going to play along on this just as much as everyone else is because you cannot change that which was written by a God who sees the end from the beginning!
The fact the secretary of the interior in the Trump administration is right now (on this video) speaking about the "bad deal" behind the Paris accord confirms this as fact. The man has stated on record all along that he believes climate change is a fact. And, what about the statement made by Gary Gohn a week ago, who happens to be Trump's economic advisor that "President Trump's views on climate change are "evolving" following discussions with European leaders who are pushing for him to stay in the Paris climate accord." So as usual, the campaign promise is only declared as such to gain the office. It's happened with every US president before Trump, it has happened with Trump and if the Lord tarries much longer, it will happen again.
Trump, his enemies, his friends, and the wildly corrupted main stream media can make all sorts of claims that Trump pulled out of the Paris accord all they want. But as I said before, Trump is a deal maker who clamors after anything he can that will remove Obama's illegitimate legacy. Trump is also about making decisions as president that will offer him all sorts of fame and long term benefits to himself and his family even after he's gone. And so as soon as a better deal is struck so as to make Trump appear the "champion of the people," as he has been promoted himself to be lately, we will see the United States of America join the Paris accord so as to assure both the mark is enforced and the US Constitution is rewritten. (as also prophesied) Because the basic reality is, there is a big difference between a treaty and an accord and so this is yet another reason Trump refused to sign and Obama did. But I won't get into that here.
Basic reality is this; If Trump really believes it's all a hoax and he wasn't just saying that after his campaign manager revealed the demographic research showed his voting bloc leaned in that direction, then why would he bother suggesting a new deal is struck at all? If it's a hoax, it's a hoax and so that would mean no deal would make it viable no matter how much it would benefit him and his legacy. There is no getting around the prophesied reality that Vatican bought and paid for scientists will declare natural disasters are the end result of climate change. Once the majority falls for the lies, (as the Paris accord proves they did) Rome will jump on this to pass Sunday laws in every nation on earth. Once Trump and his cronies rewrite the deal the Pope will have the legal ability to demand every citizen comply with Sunday Laws, but only after the loud cry exposes their true Pagan dogmatic fruits as per Bible facts backed by both prophecy, biblical jurisprudence and simple historic record. That exposure will not be tolerated and so the laws will be passed to try shut us up. But as also prophesied they will fail just as miserable as the Jews failed 2000 years ago when they demanded the Apostles shut up about Jesus Christ. And so contrary to popular belief, Christian prophecy WILL BE FULFILLED! At this point, it's only a matter of WHEN.
Additional Articles Confirming we are in the Last Days:
Christians Shot to Death in Attack on Marawi, Philippines * Palestinian cops arrest Christians for … eating * VIDEO: Classmates fight as substitute teacher sleeps * VIDEO: Water pipe bursts underground in Kiev, creates huge explosion * Gun-Controlled Chicago: 49 Shot, Six Killed Over Memorial Day Weekend * VIDEO: Racist Evergreen Student Activists Demand Video of Them Screaming, Cursing at College President Be Taken Offline * D-Ted Lieu Won't Condemn Kathy Griffin for 'Beheading' Donald Trump Photo * Watchdog Claims 5K Noncitizens Registered to Vote in Virginia * Heineken toasts 'borderless world' (NWO) in new ad campaign * VIDEO: People Who Lost Their Life Due To Facebook * Climate expert praises Trump for pulling out of 'sham' Paris accord * Epic fail: Every student flunks state exam * Trump administration approves tougher visa vetting, including social media checks * Knowingly exposing others to HIV should no longer be a felony, state Senate says * Poll: 60 Percent of Trump Voters See Media as 'Enemies' to People Like Them * Top 7 Worst Reasons to Keep the Paris Climate Accord * FYI: Chrome bug that lets sites secretly record you 'not a flaw', insists Google * VIDEO: 16-year-old girl accused of killing Uber driver