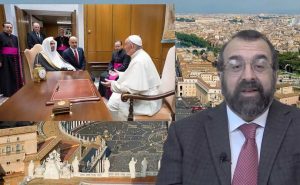 "Robert Spencer is "perhaps the foremost Catholic expert on Islam" in the United States and he has written in many Catholic and non-Catholic Christian publications and programs. Therefore, what Robert Spencer has to say in relation to Islam should at least be given serious consideration. …In the case of this video, Spencer calmly presents legitimate concerns about what he believes would be the logical implications or real world perceptions by Islamists of Pope Francis' statements and actions regarding Islam and the unchecked massive invasion of Islamist young men into non-Islamic nations. Given how deeply he is immersed every day in reporting on Islamist mass slaughters, violations of women and children and many other Jihadist depravities, it is no wonder that Spencer can seem rather harsh or blunt when discussing the pope and Islamism. …Spencer does not believe that traditional Islam is "inherently terroristic" but says he can prove that "traditional Islam contains violent and supremacist elements", and that "its various schools unanimously teach warfare against and the subjugation of unbelievers" –Source
With all that said, the Pope still declares Islam a religion of peace and the Koran to be a peace filled book and as this reporter states in the video, he also claims meeting with known terrorist leaders to be an act of love. This man of sin in Rome is doing the exact same thing Hitler's Pope did only now he does this openly without fear of much reprisal because of how easily the media of today is scripted. Due to the dumbing down of billions due to government schools as well as the censored media, most can't see the danger here. And even though violence is committed right in front of them, they still don't speak out against this Pope because even if they did the media would not allow it to be published. Hence the reason I have had more than a few videos deleted by Youtube as well as my main site being censored by AOL, Google, DLink Routers, and others.  
Still, not everyone is blind, but most still ignore the fact that a Christian is killed every 2 minutes at the hand of Muslims who this Pope has stated more than once to be a brother in the Christian faith. Think about that! Instead of declaring them sinful as Jesus or John the Baptist did regarding the Pharisees, this Pope openly embraces them and in so doing gives them license to continue killing Christians. Most also ignore the fact that some Muslims have actually stated on camera that they left Islam to join the Catholic faith because their Koran was obviously written by the Popes of Rome. And most ignore the fact that Islamic leaders teach those loyal to their religion to not only worship the Roman Catholic Mary, they are also in agreement when it comes to child molestation. But not for long. Soon King Jesus will return and Rome will burn as will everyone in bed with the harlot that sits upon seven hills.
Additional Articles Confirming we are in the Last Days: 
Pakistani Christian 'Beaten for Car Poppy Display' Warns 'More and More Muslim Violence Is Coming Into Britain' * Mom who beat daughter for not correctly saying Bible verses sent to state prison * VIDEO: Gorka on Uranium One Deal: 'If This Had Happened in the 1950s, There Would Be People Up on Treason Charges Right Now' * VIDEO: Watch: Bystanders Rob, Take Pictures of Woman After She Gets Knocked Out * Former Baltimore Police Detective Admits to Invading Homes, Robbing Citizens on the Job * VIDEO: Obama-era Uranium One deal strongest evidence of Russian collusion: Rep. DeSantis * Death Spiral: Obamacare Exchange Premiums to Spike by 38% in 2018 * VIDEO: Gorka suggests Hillary guilty of treason, should be executed * 'Andi Mack' to feature Disney Channel's first coming-out tale for gay tweens * VIDEO: WOW!! Tom Fitton talks new developments in Clinton email scandal * Paul Manafort Indicted on 12 Counts Unrelated to 2016 Campaign * VIDEO: Muslims team with antifa to obliterate critics of 'religion of peace' * Communist front group behind 'Uprising' planned Nov. 4 * VIDEO: Apocalyptic photos show sea of hail swamping cars in Argentina * Facebook struggles to contain Russia narrative