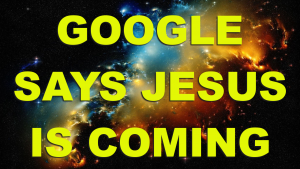 Yes, I know I said in the video I posted on all this Wednesday evening that I wasn't going to post a blog entry on it. But the comment section on YouTube warrants it. That way I can just point to the links proving truth in the hopes of slowing the comment storm.
In the video I share something that most won't believe and I did it all on screen so they can see it for themselves before Google removed it (AND THEY DID remove it yesterday) Check it out the article that originated all this here. In the video I show how if you type "dog" 19 times (preferably in notepad first and then pasted in) you will see Google translate using "Mauri" as the originating language that they hid a statement regarding the return of Jesus. (Well.. "their" version of Jesus that is)  
And so as I said in the video, do you wonder why this is happening? Besides the fact that most heavy into the occult know why the word "dog" is being used here, we all know just how evil the ones running Google really are just by looking at their logo. Many of us also know about the many false prophets that are to come forth in our day making all sorts strange predictions as well as preaching another Jesus unto the masses. But this is par for the course. The elite behind the doors in Google are all too happy to declare Satan their Christ and so they will happily announce his arrival even in very minuscule ways. We know Google is totally Antichristian, hence the reason they have been censoring my website for years while at the same time promoting the many false prophets in all the fallen churches of the world. In any event, just thought my subscribers would like to see this and so.. I shared it.
For those of you on YouTube that keep sharing verses regarding a secret rapture, please click here for ALL the verses that touch on this. I don't blame you for sharing those verses out of context, but as I have stated many times before, the blame falls upon the wolves standing on the pulpits. Still, you do have some blame here because if you refuse to open your Bible and double check your pastors as the Bereans of old did, then YOU are to blame when the promised wrath of God falls upon you.
Additional Articles Confirming we are in the Last Days:
PTL: New law lets parents veto schools' sex ed * Study: Rise in riches follows decline in 'religion' *  Roman Catholic Italian Bishop: I Would 'Turn All Churches into Mosques' to Save Migrants * VIDEO: Watch – 'No Judgement Day Until Muslims Slay the Jews': Danish Imam on Hate Speech Charges * UK: Acid Thrown on Three-year-old Boy in 'Deliberate Attack' * Gallup Poll: No One Believes 'Climate Change' Is America's Biggest Problem * Delingpole: Yes, It's Hot. No, It's Not 'Man-Made Global Warming' * FYI: Study: Chicago Named Number One 'Rat Capital' in the U.S. * VIDEO: Vehicle attempts to ram Presidential Motorcade in Springfield, MO * Carter Page Surveillance Documents Indicate State Department Provided Initial Info After Interacting with Hoax Dossier Author * Clinton Cash Author: 'Different Set of Standards' for Clintons Angers Americans * Mexican Border City Gun Battles Lead to 1169 Stolen Cars in 6 Months, Most Taken by Force * Democratic socialism rising in the age of Trump * VIDEO: Kevin McCarthy on Leftist 'Abolish ICE' Push: Democrats Now 'The New Socialist Democratic Party' * How Obama years were 8-year hacking nightmare * Air Force's new career path: cyber-war specialist * America's classified secrets system 'unsustainable' (switch to digital so they too can be hacked?!) * Russia now going after free speech * VIDEO: New sex abuse allegations levied against prominent cardinal * VIDEO: 'Stand your ground' law protects shooter in deadly fight over parking space: sheriff (looks like murder to me. The guy was walking away.) * Banning books and mind control: It's all the same thing * The Democratic Party is evil * What the media won't tell you about illegal immigrant crimes * Is Google Translate hinting at end of the world? * VIDEO: Obama says he's from Kenya, again * 2 (3?) killed in Toronto shooting rampage * VIDEO: Victim's girlfriend says Florida gunman provoked fatal 'stand your ground' shooting* VIDEO: WATCH: Chicago Mayoral Candidate Gives Potential Constituents Cash for Votes * VIDEO: Toronto Shooting Suspect Identified as (Muslim) Faisal Hussain *FYI: Texas School District Considers Facial Recognition for Campus Security * VIDEO: Watch: State Department Holds First-Ever Religious Freedom Ministerial * FYI: Facebook likes jihadists, not anti-jihad Muslims * WHAT?! VIDEO: Study links 'climate change' to rise in suicides * 'Sisters in hate' (in USA) join to raise money for 'Muslim Mafia' * Cambridge University scientists create artificial embryo from stem cells * Greece wildfires a 'Biblical disaster': At least 74 killed near Athens as tourists forced to flee into sea * FYI: Facebook As The Ultimate Government Surveillance Tool? * FYI: Lawsuit Proves HHS Hasn't Filed Required Vaccine Safety Reports with Congress IN 30 YEARS * VIDEO: BREAKING: Lawsuit Exposes Vaccine Immunity Fraud by HHS * Immigrant admits recruiting Muslims for jihad massacres * State: You need permit, which we won't give you