For those that are in need of a prayer answered, whatever the reason; if you're serious about your walk with Christ, and you really need His help, I am sure you will read all of this, as it is a bit long for a reason.

It says in 1John 5:14,15 that "And this is the confidence that we have in him, that, if we ask any thing according to his will, he heareth us: and if we know that he hear us, whatsoever we ask, we know that we have the petitions that we desired of him.
When we pray, we need to remember that however the Lord chooses to answer the prayer should be perfectly acceptable to us or we will be tempted to have a major issue with what happens next. Trusting the Lord in prayer is key to the promised peace that is deep within. Another important key is in what we actually pray for because all too often "Ye ask, and receive not, because ye ask amiss, that ye may consume it upon your lusts." -James 4:3.

When you pray for blessings from the Lord, be it a job, a healing, or even the sale of a home, remember that sometimes the Lord may see that it is not beneficial to your faith to give you just what you desire in prayer because you desire the healing, blessing, removal of trial or whatever else, simply so you can have a trouble free life with things you may or may not know His Word says are sinful. You may not see it as sin right off, but we are all sinners saved by grace and quite often we don't know our heartfelt intentions are sinful. This is why our heavenly Father winks at our ignorance so often. (See Acts 17:30)

As you walk with Christ over the years you not only grow in wisdom and in faith, you also begin to realize certain desires of yours were not always for the best. You may not have seen that sinful issue when you prayed a specific prayer on day one, but your Father did. And now that days, months or even years have gone by since you prayed, you now see why it was better that you didn't get the prayer answered in the way you wanted.

A prime example of this would be a prayer my wife and I prayed for 1011 days back in the 90's when the place we were living in was extremely stressful and just one step from being homeless. At the time we had no idea that living in the city was wrong and God's will was that He wanted us to not only leave the city, He also wanted us away from our friends and even family as well.

The Lord did place a strong desire in our hearts to live on farmland far from the city because of the peace and beauty of it all. He even allowed us to spend a few days in the country further locking down a love in our hearts for the country life. I can even recall praying on the back porch of a farm house early one morning after spending the night there with a pastor friend of mine. I clearly recall asking the Lord to give us such a place to live and raise our children in. But, the enemy of souls still confused us to want to stay in the city because, like most people, we were misled into thinking that you can only get a good job living in the cities.

Decades later as I look at all the people living in the rural areas with nice homes and well-paying jobs, I see now that this was all a lie of the devil so as to make sure most stay in the city. Some even think you can't get good jobs in the rural areas because you have to know someone to get them. But before going fulltime in the ministry, I had the best job I ever had in my life in the rural area and I didn't know the people I was hired by at all. So again, it was another lie to get me to stay in the city by Satan. And another lie has to be the fact that I was told that living in the rural areas would be more expensive than the city in that the houses were so much larger and they usually had a lot of land. We found that too was a lie after we found a place to rent for $100.00 a month on 5 acres of land! Back then, the norm for a 3 bedroom apartment in the city was $1500.00 a month with absolutely no land for the children to play on.

So how does this all apply to prayer? Think about it.. had we stayed in the city to seek a job and a larger home for our large family our faith and understanding of His Word may never have been blessed as it was once we left. Reason being is, when we finally moved out of the city, literally 6 months after doing so, all the distractions of friends and family, and of course all the temptations of city life itself, ended and we quickly discovered the real truth about the Law of God as well as many other amazing truths regarding the Christian duty in these last days.

We were so stubborn and wanted the Lord to answer our prayer in OUR WAY that we nearly lost sight of Jesus and His blessed calling unto us to share His truth to so many precious souls all around the world.

Brothers and sister, we all need to understand that the Lord does in fact hear our prayers and He will always answer them no matter what the enemy of souls is tempting us to believe. But we also need to understand that the answer won't always be in the way we expect or even want at times. He will only grant you what is best for you. It says in Isaiah 55:8-9, "For my thoughts are not your thoughts, neither are your ways my ways, saith the LORD. For as the heavens are higher than the earth, so are my ways higher than your ways, and my thoughts than your thoughts."

When I finally came to understand this is how our heavenly Father works, I realized that day that even though I am trying my best to walk in the well-lit path He set before me, there are still some character flaws and other sinful acts that I desired to do that I simply had no idea were sinful. Since our Father in Heaven knows more about us than we can ever know; He knows that when we pray for something, He is only going to answer the prayer in the way that is best for us in the long run. He is truly a loving FATHER to us. He cares about us that much.

When we were praying to move into a home and get a job in the city, I was also learning much more about how to share my faith on the street as well as on a pulpit during that 1011 days. Had our prayers been answered quickly wherein the Lord allowed us to find a home in or even away from the city in less than 1011 days, the lessons my wife and I learned in how to work with a church family would have never come to be. During that long trial both of us were given duties in that church we joined back then. To this day those lessons learned still help us to help others more effectively. And yes, the entire experience was rather humbling to boot because all our friends and relatives knew all about our dire situation living above my parents in that small kitchenette. Even some of my previous employees and friends that knew me in business knew about all this. I believe the Lord allowed this to happen before so many eyes so as to teach me how to get rid of pride.

Everyone I knew judged each other by the coin in their pockets and cars in their driveways. The constant jeers, jokes and name calling by those closest to us was rough yes, but it blessed us all greatly in that we learned how not to treat others in the same way. Bottom line is, that was without a doubt the most humbling situation we ever experienced. And I praise my God for it to this day quite often because I still see the blessings from it in my life. And no. I am not the first one to deal with such things and I won't be the last.

That being said.. Do you remember Naaman the Syrian? His experience in life is found in 2 Kings 5:1 which says, "Now Naaman, captain of the host of the king of Syria, was a great man with his master, and honourable, because by him the LORD had given deliverance unto Syria: he was also a mighty man in valour, but he was a leper."

One day Naaman's wife sent out word to the king of Israel asking for Elisha the prophet to come heal her husband. To make a long story short, as well as move many reading this blog to please read about all this in 2 Kings on your own, because we know how we all need more bible reading in our lives; the long and short of it is that it finally came down to Naaman standing at the door of Elisha one day awaiting his presence so as to be healed of his leprosy before the eyes of his servants. The Word goes on to share the following…

2 Kings 5:9-12, "So Naaman came with his horses and with his chariot, and stood at the door of the house of Elisha. And Elisha sent a messenger unto him, saying, Go and wash in Jordan seven times, and thy flesh shall come again to thee, and thou shalt be clean. But Naaman was wroth, and went away, and said, Behold, I thought, He will surely come out to me, and stand, and call on the name of the LORD his God, and strike his hand over the place, and recover the leper. Are not Abana and Pharpar, rivers of Damascus, better than all the waters of Israel? may I not wash in them, and be clean? So he turned and went away in a rage."

Isn't this how many of us act to this day? We expect a miraculous movement of God's hand, an open sign in vision, an amazing prophetic dream granting us inspired direction, or a hug from on High to make us feel as if we are someone special and therefore worthy of a grand movement of the hand of God before the eyes of all looking on.

As is obvious here, Naaman forgot that Elisha was not only a prophet of God, he was an obedient prophet who told him exactly what God said for him to do. Elisha wasn't going to play up to the pomp and circumstance of any man, no matter how important that man may be. Yes, sometimes we don't like to hear what God has to say in His Word regarding His will or even when He speaks to our hearts wherein we know He is asking us to do this, do that, give this, give that, or even share this or share that in order for our walks to be blessed, our bodies to be healed, trials to go away, or for any other prayer to be answered.

This also reminds me of the young rich man that walked away after Jesus told him to sell all he had and give to the poor so as to have the faith he desired to enter into Heaven. He didn't like what the Lord said in Matthew 19 just like I didn't want to hear it years ago about going someplace where I saw no plausible way to provide for my family while living in that small kitchenette apartment with my very large family. And so, as expected, off went the rich young man without ever receiving the blessing promised him by Jesus Himself because it wasn't something he agreed with. He simply could not give up all that he had to do something he assumed was an empty promise. It's amazing how close the blessing came for him and it is very shocking how some people to this day forfeit all the Lord's offering them simply because they think the place they're in now is best for them.

But I am happy to report that it doesn't end like that with Naaman. One of his servants had the necessary faith to see what was happening and understood that which Elisha said as being the only way his master was going to be healed. Not only that, it seems apparent to me that this servant knew his master had a certain character flaw that would cause him to walk away from the blessing he so desperately needed. Hence the reason he decided to courageously speak up with.

And yes, this is why some of us cannot contain ourselves wherein we speak up when a loved one is being tested as well. In fact, all too often my wife and even some of our children were used of God to rebuke my Naaman like attitude years ago that helped me to see how bullheaded I was being as well.

Getting back to Naaman, it goes on to say…

2 Kings 5:13-14, "And his servants came near, and spake unto him, and said, My father, if the prophet had bid thee do some great thing, wouldest thou not have done it? how much rather then, when he saith to thee, Wash, and be clean? Then went he down, and dipped himself seven times in Jordan, according to the saying of the man of God: and his flesh came again like unto the flesh of a little child, and he was clean."

So, why was it Naaman refused at first to do as the prophet bid him to do so as to receive the blessing? In his pride induced disappointment he naturally got upset like the young rich man in Matthew 19 and refused to follow the humbling duty needed to grant the healing that was promised by God and declared as the answer to his prayer via his obedient prophet. Naaman responded "I thought, he will surely come out to me, and stand, and call on the name of the Lord his God, and strike his hand over the place, and recover the leper."

As I look back now, I too had this mindset that I wanted to have God do something for me that would stop all the ridicule I was receiving for being so humbled. Had God answered my prayer I never would have overcome pride.

It was obvious why the Lord told Elisha to forgo granting Naaman and audience and simply tell him to bathe in the Jordan. Naaman had an issue with pride and needed to be humbled before the Lord could do anything for him. This is why so many of us have our prayers answered so slowly. This is why one of mine took 1011 days years ago because I didn't want to go from being a business owner to one living on welfare in front of all my friends, relatives and business associates. But I had to go there so as to learn the lesson!

There's often something in the lives of the one praying that he or she refuses to give up so as to receive the healing, blessing, or the answer they desire from our loving Father in Heaven. Quite often the answer doesn't come until after we do what the Lord is moving us to do or learn what we need to learn. The doors He closes and opens are there for a reason.

This is something I have been tested with many times in my life and continue to be tested with to this day. Most of us not only want our prayers answered yesterday; we want them answered in the exact way we prayed, period! No sidestepping, no out of left field response, no major trial to gain the answer, and certainly no humbling duty on our part so as to see His hand move. But as I have said so often to my children over the years as well as to those on the street or even in the church; I must also say to myself at times – suck it up pal, and deal with it! Do as the Lord commands and you will most assuredly see His hand move and be blessed for it.

I can relate many times in life wherein the Lord closed certain doors and opened others to where I had no choice but to walk through them, as difficult as that may be at times. Being obedient in the good times means nothing until you're obedient in the rough times. Fair weather Christianity is a farce concocted by Satan as far as I can see. In fact, the parable of the sower of the seeds or even the one regarding the talents proves that hands down.

And yes, I am sure some young in the faith are most likely to be tempted to look at Naaman in 2 Kings as some long-lost spiritual figure that can't possibly apply to today's world in any way shape or form. The enemy of souls likes to paint such people in the Word as a mythological figure or even a fictional character that was greatly exaggerated to keep us off the path the Lord light up before us. But I have to say that just as much as some may think that of people in the past, I am sure some preachers of thousands of years ago had problems trying to explain how life was to be for people in the last days as well. It can all look like fiction, mythology or even an old wives tale for some. But for those with eyes that see? Truth is truth!

Just as the lifestyles of Naaman, Elisha or any other ancient patriarch or prophet may seem to us today, our very lives today are just as strange to them of old when they look into the prophecies and see how most in today's world would be so bone headed in denying Jesus as Lord even though so many prophetic events were prophesied to be happening all around them, not to mention the hundreds of prophecies proving who Jesus is. This is why so many that finally open Bibles today get so blessed when they actually study it. There is so much happening right now that you literally have to be spiritually deaf, dumb and blind to miss it. We truly are in the last days!

Witnessing God's hand move has never been so easy in the history of mankind as it is now. Seriously! We have more movements of His hand in one generation than a dozen generations in the past. This is why I can see how some Bible readers of old would be shocked to see how blind the people are today, and especially those claiming to be Christians. So again, just because Naaman was bone headed back then, it doesn't mean it's going to be any easier for us today when we decide to do things our way no matter what the Bible says. I praise God for that 1011 days for it allowed me to see how amazing our Father in heaven is. I never would have guessed the calling He placed upon me when I prayed to be able to work from home so as to be near my loved ones. But because of my worldly desires, it took years for me to see it.

Like many today, Naaman considered it beneath his dignity to go and humble himself by bathing in the river Jordan. I am sure some of us may have an issue if we were told we had to move into a hovel, seek the help of a natural healer, be educated by a teacher, lose our jobs or have our brand-new car repossessed because our God knows how we have been placing far too much stock in our abilities, our status or even our ability to pay the bills on time.

In Naaman's case he had to humble himself to openly bathe in front of all his servants in a river that he, and I am sure some of his servants saw as degrading; just as some of us would never step foot in a city bus or take a job at minimum wage. If this be you, please remember what Jesus said in Matthew 23:12. He said, "whosoever shall exalt himself shall be abased; and he that shall humble himself shall be exalted."

The rivers mentioned and desired by Naaman were very beautiful, yes. In fact, in their day it was common place to dress up the natural creation all around the rivers to the point some of these rivers had groves and even large idols placed all around the river's edge signifying their exceptional status in the region as some highly regarded or even spiritual spot for the best of men to enjoy. One can imagine the hordes of people frequenting such places as well as the rich making sure everyone saw them in their fancy new chariots, expensive clothing, with numerous servants as they lounged around the river bank in luxury. For Naaman to bathe in such a place as this would not have hurt his pride at all. In fact it would have bolstered it even more so and this is why we see the Lord telling him through His prophet to lower his self-serving pride and bathe in the murky Jordan.

I can recall many times that it was only after a willing obedient act, no matter how trying it may have been at the time, and yes sometimes quite scary as well, that after surrendering to the Lord's will on such a thing, the prayer was answered and still, even here, it was answered in a way I never would have expected.

Think of it in this way if it helps you to do so. When we obey Him in ways that we know are right but still rather difficult to do, he always ends up giving us something in our lives that had we held unto the sinful habit, it would have grown to a point that it eventually hindered our entrance into New Jerusalem, and we would have been lost forever. When we get Home, would we not consider such thoughts to be insane in the same way the patriarchs and prophets of old would think ill of the last day "Christians" in our day?

And another thing… as some of you have heard me say this many times before, hindsight is always 20X20 in life, and especially in spiritual matters as we can always see that with the intense trial also came a wonderful blessing at the end of it that later on and in our joy, we always proclaimed what the Lord did for us to those around us so as to glorify Him as the loving Father He is. Looking back, we can see now, as did Naaman, that had we not walked through the difficult doorway placed before us, we never would have been able to gain the blessing our Lord was waiting to shower upon us all along.

Now for the other side of this coin; sometimes the Lord allows the situation we are struggling with to remain upon us, but only if it's not detrimental to our walks. For example… when Paul prayed that the thorn in his flesh might be removed, the Lord answered his prayer, not by removing the thorn, but by giving him grace to bear the trial. … It says in 2 Corinthians 12:9, "And he said unto me, My grace is sufficient for thee: for my strength is made perfect in weakness. Most gladly therefore will I rather glory in my infirmities, that the power of Christ may rest upon me."

Did you catch that? Paul didn't say, "say what? wait a minute… Are you kidding me? I have to continue with lousy eyesight for the rest of my life?" No, he said that he would "gladly" remain that way because he knew doing so would allow him to glorify God in his infirmities so that the power of God can rest upon him even more. What an amazing testimony is this!

And I must say, I have seen a few people in my life, and one very close to me, that have been allowed intense trials that none of us would ever want to deal with. But while in the trial I never see them complaining. This glorifies the Lord like no other because, even though the Lord allows the trial, the faith of the one suffering is still growing and their love for the Lord obvious. For those seekers looking on the Christian in his or her trial, they are greatly blessed to see how real the peace of Jesus is in such an obedient soul as this. Like Paul, their faith moves them to surrender to God's will and in so doing, their lives are blessed.

When the sick pray for the recovery of health, the Lord does not always answer their prayer in just the way they desire either. But even though they may not be immediately healed, He will give them that which is of far more value. He will always give them the grace, faith and power to bear the sickness and not be tempted to despair. 1 Corinthians 10:13 proves that hands down. And in Paul's sake, knowing his surrendering to God's perfect would allow him to glorify Christ in his disability as we call it today, he also knew the power of Christ would rest upon him for doing so. This is what every obedient remnant child of God craves to do today.

That being the case; Paul knew that when needed, he would be able to pray in confidence and see God's hand move upon others the Lord sends his way. But would he be able to have such a powerful prayer life if all he could think about was his own disability and how the Lord hasn't healed him? No, his mind and heart would have been solely focused on self. And Christ can't bless such a soul as that because like Naaman, they would be focused on the wrong things. Seeing how being a servant unto others is what citizenship in Heaven is all about, Paul was all about clamoring after that kind of blessing here on earth; and so, he allowed the Lord to not only use his disability to strengthen his faith, it was used to glorify the Lord as well. Think about that for a moment. Some looking on may think, Paul still trusts the Lord even though he didn't heal him? Now THAT is a man after God's own heart! Paul knew God's will was the best answer to any prayer. In other words, one can see Paul stating, if the trial I go through will help others find Christ, then I'm all for it.

Whether our ever-loving Father answers right away or not at all should never matter to us. We must always make our requests known to our Lord, Creator and King. After praying, we must simply let go and let Him do as He knows is best for us and those He sends our way. Then, like Paul who had a contrite heart that God can use to help others in ways that will glorify Him is how the blessing will be realized. It says in Isaiah 57:15, "For thus saith the high and lofty One that inhabiteth eternity, whose name is Holy; I dwell in the high and holy place, with him also that is of a contrite and humble spirit, to revive the spirit of the humble, and to revive the heart of the contrite ones."

When we let go and let our God have the reigns in our lives, it is then He shines the most. Remember the promise of 2 Chronicles 7:14 that says, "If my people, which are called by my name, shall humble themselves, and pray, and seek my face, and turn from their wicked ways; then will I hear from heaven, and will forgive their sin, and will heal their land."

We simply can't ask for a better outcome to any prayer than the way our heavenly Father that loves us chooses to answer it regardless of the fact we cannot comprehend how He does it this side of eternity. Having our Lord that close by makes life more abundant and peaceful than anyone can imagine. That is why even the obedient pauper stands as the richest man alive and the obedient suffering soul stands as the strongest in Christ no matter what the disease, trial or situation is. After all, Naaman was not only a leper, he was a mighty man of valor even before he received his healing was he not? His obvious flaw was pride, and when he let go of it, the healing hand of God was upon him. One can only imagine how long Naaman prayed that prayer to be healed. But as is obvious, the split second he did as God commanded, only THEN was the prayer answered!

If we trust Him and know that He will never reject us when we come to Him with a contrite heart, we will also know not one sincere prayer will ever be lost because when we love He that first loved us, He is always there to bless His child in ways they never would have imagined.

You have to know brothers and sisters that our heavenly Father hears the cries of the weakest as well as the strongest child of God that not only trusts in Him, but does not complain when the answer to their prayers are long in coming. These prayers we recite may be silent to all those around us. But we do know that even if we pray in the noisiest place on earth; He hears every word we speak and accepts every scent of love we offer to Him on our own personal alter of incense. Nothing in the entire universe could ever obscure or drown out the obedient Child's prayer unto his or her Father in Heaven. I mean after all, it is the God of the Universe we're speaking to when we pray. And so, you have to know that even if you proclaim it in silence from your heart; He that reads the hearts of man will hear the prayers of that loving soul for that soul has a heart that cries unto His own heart.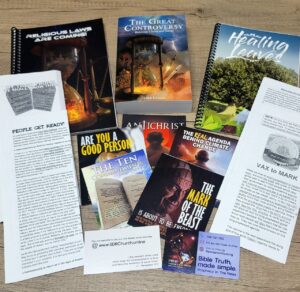 Get a free copies of our available tracts so you can distribute to others if you want to be a part of the prophesied remnant movement giving the loud cry.