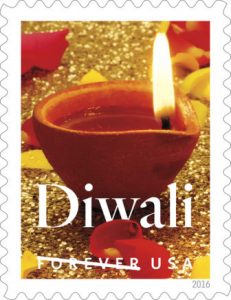 WASHINGTON (RNS) Never before has a U.S. stamp celebrated anything Hindu.
But coming soon to a post office near you: a stamp marking the Hindu holiday of Diwali.
The new Forever stamp is scheduled to be featured at a first-day-of-issue dedication ceremony on Oct. 5 at the Consulate General of India in New York City.
Diwali, or the Hindu festival of lights, is observed across the globe with music, fireworks and dance. It celebrates good triumphing over evil.
The stamp features a photograph of a traditional diya oil lamp, its flame glowing in front of a gold background.
The Hindu American Foundation, which helped lead a campaign for the stamp, said the diya is "the most iconic symbol of the holiday." Continue reading →