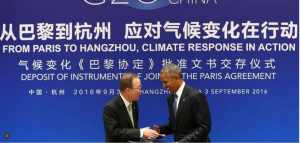 BARCELONA, Sept 16 (Thomson Reuters Foundation) – U.N. officials have said they are confident the Paris climate change agreement will enter into force by the end of 2016, with at least 20 countries indicating they will join it at a U.N. event on Sept. 21, adding to the 27 that have already done so.
U.N. Secretary-General Ban Ki-moon has invited states to deposit their instruments of ratification or approval of the Paris deal at the one-hour event on Wednesday morning.
Leaders whose countries are not yet ready to join but plan to do so this year have been invited to contribute videos expressing their commitment, said Selwin Hart, director of the U.N. chief's climate change support team.  
"When we start to look at the countries that are joining the… agreement and the countries that are going to commit to join before the end of the year, we are absolutely certain that we will have the Paris Agreement on climate change entering into force by the end of 2016," said David Nabarro, Ban Ki-moon's special advisor on the 2030 Agenda for Sustainable Development.
To take effect, the Paris climate agreement needs ratification by at least 55 parties to the United Nations Framework Convention on Climate Change, representing at least 55 percent of global emissions.
The officials told journalists in New York on Thursday that the United Nations had so far received 27 ratifications covering 39 percent of global emissions, including from the world's top two greenhouse gas emitters, the United States and China.
Among those expected to join formally next week are Mexico and Brazil.
Brazil completed its domestic process on Monday, but while it produces around a tenth of global carbon pollution, its share of global emissions that will count towards the Paris threshold is only 2.48 percent, as it is based on 2010 data.
Experts with the World Resources Institute calculate that if all the nations that have said publicly they will join the Paris agreement this year fulfill that pledge, it could begin in 2016.
Whether it will take effect even before the annual U.N. climate conference in November in Morocco is unclear. For that, the thresholds would have to reached by Oct. 7, as the deal will enter into force only 30 days after they are passed.
If that does not happen in time for the Marrakesh meeting, the first talks on implementing the Paris deal will take place later in 2017.
The officials said it was "remarkable" the agreement could enter into force so soon after being adopted last December – a process that can often take years or decades.
All eyes are now on the European Union, which has indicated it is looking for a way to speed up its Paris ratification – a complex process involving its 28 member states.
Hart said there was even a possibility the EU could now join this year – but it was a "work in progress".
Under current rules, the European Union and each of the nations it spoke for in Paris must deposit their ratification documents with the United Nations simultaneously, and so far only three states – France, Hungary and Austria – have ratified the agreement.
MIGRATION SUMMITS
Another major focus at the United Nations next week will be two summits on strengthening the world's response to the rising numbers of refugees and migrants.
A draft outcome document for Monday's U.N. meeting on that subject acknowledges that the "adverse effects" of climate change and natural disasters are among the factors causing people to leave their homes.
It refers to implementation of the Paris climate agreement, as well as the Sendai framework to reduce the risks of disasters, and a set of voluntary guidelines to help those forced to cross borders due to disasters and climate change.
But it does not offer new ways of formally assisting those people, who have no protection in international law, unlike refugees fleeing persecution and violence.
Alice Thomas, manager of the climate displacement programme at Refugees International, said the number of people uprooted each year by more extreme weather, coastal erosion and growing food and water insecurity already far exceeds those displaced by conflict, and will continue to rise sharply.
Governments should next week agree to step up efforts to tackle the problem, she said.
"States will need to commit to supporting the most climate-vulnerable countries to take concrete measures to avert, minimise and address climate displacement through increased investments in disaster risk reduction, building the resilience of the most vulnerable, and by addressing gaps in the international legal framework for those forced to flee climate change," she said.