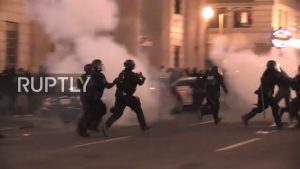 "Now, courtesy of a Zero Hedge reader, we have visual confirmation of how a substantial portion of these professional, paid protesters arrive at the site of the protest, in this case Chicago. As our reader notes, "I have a video of 5 city blocks on the West side of Chicago lined with busses from Wisconsin (Badger Bus Lines) bringing in protestors. The Sears tower is visible in the background."" –Source
It's amazing how long that line of busses appeared to be. Literally 5 city blocks and they were lined up on both sides. So in essence, 10 city blocks of paid for professional protesters to start riots in each city?! They are doing all they can to disrupt America and further divide the people. They even claim (in this video) that the powers that be can deny Trump the office of the president. But with a Republican house, Senate, and President elect, that's not very likely. And if you notice in that video, the media is once again hiding truth and isn't saying anything about the fact that the protests are bought, paid for and staged in those cities.  
And it gets worse…
As we know, Trump is no saint. In fact he's quite a problem for Christians who keep Sabbath as his on camera comments regarding the 501c3 and how he plans to help the Christians come to power as "the most powerful lobbying group" in America is something students of prophecy have been warning everyone about for decades. In short, that does mean Sunday Laws are that much closer. So again, Trump is no saint. But then Hillary is no better. In fact, in many ways she is far worse. The fact her cohorts are paying for professional protesters to riot in our cities show how little she cares for the people and how much she craves power over them. They even claim she deserves the presidency because she won the popular vote. If that's the case, why wasn't Gore made president in 2000 when he won the popular vote? What no one in the media seems to be showing is that online confirmation is flying everywhere that millions of illegals voted for Hillary and so the reality is she didn't win the popular vote anyway.  
In any event…
Some look at these protests as a way to bend the ears of the electoral college in the hopes Trump is voted out and Hillary voted in on December 19 when they vote. But something far worse will happen if it gets out of hand as many seem to suggest that is their present and obvious agenda. In fact it was prophesied long ago that civil war was to come to fruition in America. Is that about to happen now? Time will tell rather quickly on this one, as we're only 9 weeks from the inauguration.
Violence is always the end result when the wicked can't get their way. Need I remind you of the Inquisitions of the Roman Catholic Church? If these paid for protesters are kept hidden in the media, as the aforementioned video confirms already are, most of the people will think it's a legit protest and some may even join their ranks seeding the mindset of war. Obama can then use the media promoted lies and well hidden facts as an excuse for martial law and then all election procedures cease at that very hour, and that means he remains in office. Even though we have already seen him stand as Dictator for the last 8 years, it would become official on that very day if and when he pushes that proverbial button and Rome's Socialist agenda will come to fruition.
Still.. whoever stands in the White House when this is all said and done matters little. This is why I never registered to vote and never will vote for democrats, republicans or even independents. For it is the Lord Himself that sets up kings and paupers and so His hand will move as He pleases. My vote doesn't matter one bit. But what most Americans fail to realize is this. The lackadaisical morals of most Americans today, and this includes tens of millions of lukewarm Christians, the decadence of this nation confirms whoever stands in the Oval Office on January 20th 2017 is exactly who the people deserve! Keep in mind that just as Israel saw Nebuchadnezzar come to power so as to chastise them for their sinful ways, the American Christians are about to witnesses the same just judgment! So be it! It's not like they were never warned!
 Additional Articles Confirming we are in the Last Days:
VIDEO: The love of many will wax cold! This mother kicks her young son out at night! * Pro-lifers win battle to publicize baby body disposal * VIDEO: South L.A. Teacher Caught On Audio Telling Students Their Parents Would Be Deported * 'Gay' cake case looming for Europe's highest court * Facebook To Ban Advertisements That Exclude Certain Races * VIDEO: Busted! DNC caught hiring buses for protesters * "Utter devastation" after major quake, aftershocks hit New Zealand * VIDEO: California high school teacher attacked by student during 'chaotic' anti-Trump protest * Chicago nursing home fined after residents overdose on heroin