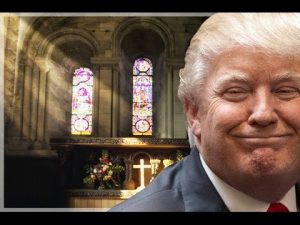 "Three sources from different conservative groups said that Heritage employees have been soliciting, stockpiling and vetting résumés for months with an eye on stacking Trump's administration with conservative appointees across the government. One source described the efforts as a "shadow transition team" and "an effort to have the right kind of people in there. …Ultimately, Trump won 81 percent of the evangelical vote, a higher percentage than even George W. Bush — himself a devout born-again Christian earned in 2004. Part of the reason the list made such a splash was because Heritage and DeMint are hugely influential in deeply conservative circles, often appearing at the nexus of conservative power structures. …It will be as exciting as the 1930s, greater than the Reagan revolution — conservatives, plus populists, in an economic nationalist movement. And daylight between traditionally conservative policy prescriptions and some of Trump's campaign rhetoric is especially apparent on the issue of foreign policy." –Source
As many are aware, Trump attended Jesuit owned and operated Fordham University in the Bronx in his early days. So he has already been well-trained on Vatican politics from day one, and this is besides the fact that most see him as only a narcissistic businessman. But look around.. how many people are allowed to become multibillionaires in this world without first being approached by Rome or at the very least born into a family that is already "on the books?" None that I know of. And so one can expect that after decades of making money hand over fist as well as making deals with all sorts of people the world over, be they trustworthy or not. After seeing how well ecumenical compromise has paid off for him so far, would he at this stage in the game decide not to continue to play ball after seeing how well the game has been? What I mean is, after hearing Pope emeritus Benedict XIV aka
Ratzinger
 proclaim a vote for Democrat means you're hell-bound, suggests their long groomed man made it into the Oval Office after all. (
Click here
for the Pope's letter penned back in 2004 that was pushed into the media the week of the election.)
But it gets worse
As we know Trump is building his cabinet as we speak. Assuming Clinton's attempt to steal the election via Jill Stein's efforts fail, who is in the running to continue this Jesuit run game in the White House alongside Trump? Are you sitting down? I hope so because the list I am about to present may shock even the greatest of scoffers. And especially those that don't believe me when I say Roman Catholic politicians will be playing a major role in the coming days wherein Sunday Laws are their long prophesied goal and they are on the very near horizon. The list presented below is not going to please the scoffer, nor will it sit well with the lukewarm Christian or even the hardnosed Atheist. It's for those that do understand, believe and trust Christian prophecy. It appears the ducks are finding their way towards their long expected row. Below is a list of possible cabinet members as well as candidates for Trump's advisory board. All of them listed below are Roman Catholics.
Mike Pence, self-described "evangelical Catholic" – Tom Monaghan, Founder, Ave Maria University/Ave Maria School of Law – Chris Christie, Roman Catholic – Rick Santorum, Roman Catholic – Newt Gingrich, Roman Catholic, Council on Foreign Relations – Michael T. Flynn, Roman Catholic – Rudy Giuliani, Roman Catholic, 9/11 coadjutor, alleged Knight of Malta – Jared Kushner, fan of the Count of Monte Cristo ("Count of the Mount of Christ;" story about the Jesuit General getting revenge on all of the Order's enemies during its suppression) – Steve Bannon, chief strategist and Senior Counselor for the Presidency of Donald Trump, former executive chair of Breitbart News, Jesuit-trained from Georgetown – Lou Barletta, Roman Catholic – Chris Collins, – Roman Catholic Ambassador Francis Rooney, Former US Ambassador to the Holy See – Tom Marino, Roman Catholic – Devin Nunes, Roman Catholic – Chuck Mifsud, President, Catholics for Ohio – Anthony Scaramucci, Roman Catholic, Council on Foreign Relations – Eric Trump, Jesuit-trained from Georgetown and serves as board member of Georgetown's – Business, Society, and Public Policy Initiative – Frank Pavone, National Director, Priests for Life – Sam Brownback, Roman Catholic Kansas Governor and former Kansas US Senator – Ivanka Trump, attended Jesuit Georgetown for two years – David Malpass, Jesuit-trained from Georgetown, Vice President of the Council for National Policy, leading appointment selections for positions involving economic issues – Keith Kellogg, trained by Jesuit at Santa Clara University, leading appointment selections for positions involving national defense issues. – Matt Smith, President, Catholic Advocate, Board Member, American Conservative Union – John Klink, President Emeritus, International Catholic Migration Commission – The Honorable R. James Nicholson, Former Secretary of Veterans Affairs and Ambassador to the Holy See – Michael Catanzaro, trained by Jesuits at Fordham University and St. Ignatius High School, leading the policy implementation team for energy independence – Joseph Cella, Founder, National Catholic Prayer Breakfast – Andrew Bremberg, graduate of Catholic University of America Executive Legal Action Lead – James Carafano, Jesuit-trained from Georgetown University , reported to be the primary aide to the State Department of Trump administration transition team – The Honorable Frank Keating, Roman Catholic Former Governor of Oklahoma – Ed Feulner, Roman Catholic former President and founder of Heritage Foundation; Jesuit-trained from Regis and Georgetown Universities – Ken Blackwell, Jesuit-trained from Xavier University, leading appointment selections for positions involving domestic issues. – Boris Epshteyn, Trump's foremost spokesman; Jesuit-trained from Georgetown.
I do have many more names on the list of course, but I did not have time to research them all so as to post them today. Due to the attack on the ministry last week that prevented me from doing updates to the blog for a week, I am still a tad behind in my work. Still, as I have done before I do now and so we move ahead as the Lord allows. That being said, I do have over a dozen more names to look into and may present them if need be. But only if they are installed as official members of Trump's Vatican inspired cabinet. Still, the list already compiled is big enough to confirm Rome will in fact be running the White House under a Trump administration.
Now think about this basic reality of how Rome works behind the scenes. Even if Trump only appoints half of the people on the aforementioned list. How long do you think it will be before we see talk of religious laws in the United States of America? And once that begins, how long after that will we see the mark of the Roman beastenforced upon the world? Basic reality is, what's really important here is, if it takes 1 year or 5 years, what are YOU doing to help proclaim the loud cry that brings in the souls that not only need to hear the truth you embrace, they are ready to join in this final work for the Lord? We have all the evidence we need to know that Sunday laws are on the near horizon. Everything from the Pope and everyone under his thumb promoting it the last few decades to Trump's comments before the election even began wherein he confirmed what students of prophecy have been saying for decades. Now that the government approved pastors have the power to lobby for Sunday Laws as prophecy predicted, and now that Trump has promised to help them organize better so as to work as a team to assure religious laws are passed, what is keeping you on that couch?
 Additional Articles Confirming we are in the Last Days:
Planned Parenthood Abortionist Thanks God for 'Guiding My Hand' When Killing Babies * VIDEO: Leaning San Francisco Tower Seen Sinking From Space * VIDEO: Fire tears through Oakland dance party, killing at least 9 * 2 women charged in death of boy who was starved, burned * VIDEO: World Youth Day 2019 in Panama will be dedicated to the Virgin Mary and vocations * VIDEO: False "peace" Daniel 8:25 warned of coming to fruition * Trump is being "puffed" as hero to Christians * California targets dairy cows to combat global warming * Death toll rising in Oakland artists' death-trap blaze