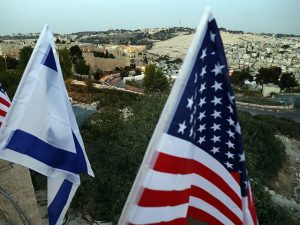 "Numerous unconfirmed reports are circulating in the international media that President Donald Trump intends announcing Monday that he will relocate the U.S. embassy to Israel from the coastal city of Tel Aviv to the capital city of Jerusalem. Jerusalem has been Israel's capital city since its founding in 1948, but most countries have deferred moving the embassy there because the original UN partition plan for the British Mandate proposed Jerusalem as a city under international sovereignty." –Source
Finally! They actually blurt it out for all to hear in a way that has no hidden meaning wherein the common man can understand! As prophesied, the man of sin in Rome has sought to "plant the tabernacles of his palace between the seas in the glorious holy mountain" as prophesied in Daniel 11:45. This actually coincides with what students of prophecy have been declaring for literally decades, and the News media have been vindicating our statements since at least the year 2000 when the article titled "'Jerusalem should be a unified world capital'" came out that offered us some facts to back the prophecy for those that refuse the trust the Bible without some proof the prophecy is coming true. (But then, that too was prophesied in John 14:29)  
Now I am fully aware that many false prophets are out there proclaiming the king of the north is Turkey so as to pull the onus off their dying god in Rome. But when this prophetic heresy reared its ugly head first it was shut down by many obedient Christians. But it was also expected Satan would fan the same flames right near the end to pull some off the path, and so it has. This I believe is why the Lord moved me to do a study on this a few years ago and as the study progressed near its completion, it happened that as soon as I got to verse 45 in Daniel 11 all sorts of current events started to happen around the world and especially in Israel wherein it became very apparent Rome was doing as prophecy said the king of the north would do. And so I started to post those articles in that section of the study. Which by the way has now grown to 25 deep. (Most recent at top of stack)
Not only did many claim Turkey was the king of the north, some even claimed Islam was the Antichrist to try and shore of the lie about Turkey. (which I then exposed here) That's what's so amazing about the prophetic Word of God. No matter what man claims, if it is not a perfect "thus saith the Lord" then the liars are easily exposed and the eternal truth once again stands tall. Still, when someone claims to be a leader in the faith and he or she makes a false claim that later reveals egg on their shirt, while at the same time proving they are false prophets, quite often the position is to stand their ground no matter how much evidence comes forth declaring they were deceived. Pride will not only prevent them from retracting, it causes many who follow them to join them in the pit of the world just as Korah did for his friends right before they were swallowed up.
What really shocked me in all this was that while those that embraced the lie of Rome regarding Turkey, political statements and events in our own generation kept confirming the king of the north was the Papacy even before the question came up. The shocking part was that they ignored all that. I mean seriously, even Clinton himself said years ago that if the bickering between the nations wasn't going to stop that he and his cohorts were going to make Jerusalem the Capital of the World! (See those quotes and more here)
So I have to ask? How many prophecies need to be fulfilled regarding the king of the north before those that preached error will finally step up and admit they were wrong so as to prevent the loss of more souls? 1John 1:9 applies here as well and so I implore you to repent before it's too late. Sadly, even though the evidence has been stacked high in the truth to confirm the error, I don't see any of them beating a path to the door of Hope anytime soon due to the pedestal of pride that was built making it impossible for them to see the path they used to tread. The fact they keep sending out Newsletter after Newsletter with tons of twisted historical records and Scripture shows they will use the same Jesuit methods of old that seek to confuse and overwhelm the student with a bevy of useless information which confirms to this point they appear to be more interested in protecting the lie than looking at how easily the truth can be seen in this. The prophecy is not that complicated! But Rome will make it appear as such to keep the truth hidden. Still, where there is prayer there is hope. So please keep them in prayer.
In any event, the final prophecies that lead to the final act, and that being of course the enforcement of the mark of the beast, are fulfilling right before our eyes. The only sad thing is, the majority of the people out there have no prophetic understanding and nearly none have any real doctrinal stand in the truth so as to see what the obedient remnant see. And so our work is cut out for us. But don't let that make you feel as if the mountain of work is far too high to climb. Remember what it said long ago in Philippians 4:13? It says plainly that "I can do all things through Christ which strengtheneth me." And so.. do it! 🙂
 Additional Articles Confirming we are in the Last Days:
Trump to Announce U.S. Embassy Move to Jerusalem Monday * REPORT: One Dead, Five Hospitalized in Texas Mall Robbery * Weather Channel Founder: Gore's 'Inconvenient Sequel' Another 'Scientific Monstrosity' * VIDEO: Again? Students arrested for handing out Constitution * What is the effect of 58 million deaths in 44 years? * Mom sues to stop Bible study classes in West Virginia schools * The case for war on Saudi Arabia * VIDEO: Anti-Trump protesters charged with 'felony rioting' face 10-year jail sentences * Severe storms in U.S. South kill at least 18 * Pleasanton police warn public about teen 'Assassin' game * VIDEO: Mom Outraged, School Dental Program Removes Child's Teeth Without Her Knowing * Highly drug-resistant TB spreading person to person: study * 'Deception employed' to build new Islamic Center