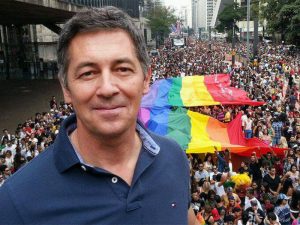 (RNS) President for less than a month, Donald Trump has come through for the overwhelming numbers of religious conservatives who helped put him in office — but not so much on LGBT issues.
Conservative Christians in particular cheered his nomination of Neil Gorsuch to the Supreme Court and Trump's promised "fix" for the Johnson Amendment, which restricts pastors' ability to politick in the pulpit.
But for the second time since his inauguration, Trump has decided to preserve an Obama-era initiative to protect sexual minorities.
The State Department announced Monday (Feb. 13) that it would retain Randy Berry, the special envoy for the human rights of LGBTI persons. In 2014, the Obama administration created Berry's position to support efforts abroad to protect gay people from violence and death.
The conservative Family Research Council had made removing such "activists" a priority and as recently as December called on the State Department to rid itself of employees who promote an "anti-family, anti-life agenda."  
Tony Perkins, head of the council and a prominent evangelical backer of Trump, called the news that Berry was staying on "a disappointing development." In a statement on Tuesday, he said the administration should focus on battling "Christian persecution and genocide" rather than promoting gay rights.
"Keeping Berry only signals to the world that the extreme agenda of the Obama years is still deeply entrenched in the State Department," Perkins concluded.
Rod Dreher, an Orthodox Christian and writer at The American Conservative, said the Berry announcement should cause religious conservatives to question their allegiance to Trump.
"Does Donald Trump wish to continue funding America's culture war mercenaries abroad?" he wrote. "The signs do not look good. … At some point, I'm betting that conservative Christians are going to wake up and realize that they've been played for chumps."
The retention of Berry was the second blow to religious conservatives on LGBT issues. They chafed after Trump last month decided to retain protections for LGBT federal workers, protections also put in place under Obama. That decision came with a gay-friendly statement from the White House.
"President Trump continues to be respectful and supportive of L.G.B.T.Q. rights, just as he was throughout the election," the statement said. "The president is proud to have been the first ever G.O.P. nominee to mention the L.G.B.T.Q. community in his nomination acceptance speech, pledging then to protect the community from violence and oppression."
That reassurance has been tempered, however, by indications that Trump officials will take a different tack than the Obama administration and lend their support — or at least not stand in the way of — states' "bathroom" bills, which require transgender people to use the bathroom of their gender at birth, as opposed to the gender with which they identify.
And while Trump has accepted gay marriage as the law of the land, LGBT leaders have little faith in Vice President Mike Pence, a conservative Christian who opposed gay marriage and championed a "religious freedom" law when he was governor of Indiana that was widely criticized as anti-gay. After criticism from the business community, Pence signed an amendment to the law intended to protect gays and lesbians.
Foreign Policy magazine, which first reported the administration's decision on Berry, described gay leaders as "stunned" by the move and predicted anger on the part of social conservatives.
"This is really surprising to me," Ross Murray, the director of programs at GLAAD, a pro-LGBT group, told FP. "I don't think I can applaud it until I see what his mandate becomes in this administration."