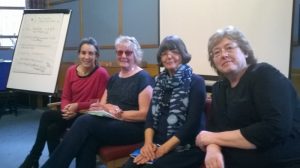 The Catholic Diocese of Hallam and the Anglican Diocese of Sheffield came together to host an ecumenical Study Day on Pope Francis' encyclical on Saturday, 25th February. A packed room at Sheffield's Quaker Meeting House came away enthused and inspired to foster care for creation in their home parishes. "The suggestion to explore Laudato Si' together came from the Anglican diocese", explained Greg Ryan, adult formation advisor for Hallam. "Not only have we been studying together, but we've learned from each other, often in practical ways. It's been an experience of 'receptive ecumenism"'.  
Ellen Teague of the Columban Justice, Peace and Ecology team, was the first speaker, reflecting on a lifetime's international activism with many powerful images. Pope Francis has insisted that Laudato Si is not to be categorised as an environmental encyclical, but rather as one encompassing integral ecology. Ellen demonstrated clearly the links between poverty, the environment and peace, and the web of interactions that involves us all. She showed how Catholic campaigning organisations stand alongside indigenous activists, and work with people of other faiths and no faith to protect their local environment from destructive projects of the corporate world, including mining, logging and water management. Challenging the theology that sees the Earth simply as a 'vale of tears' through which we make our way to heaven, Ellen emphasised the importance of peacemaking to care for creation, and encouraged us to see the pro-life stance as being concerned for all life – human, animal and plant. Even the recognition of campaigns that had been unsuccessful or had taken many years to generate change were not a cause for regret, but rather a witness to gospel values that should be celebrated. The examples of so many inspiring people working in difficult and dangerous circumstances across the globe encouraged her, and us, to keep on campaigning in whatever way we can.
With this encouragement, the focus turned to what we can do in our local communities. Two speakers from local parishes, one Catholic and one Anglican-Methodist Local Ecumenical Partnership, spoke about the processes they went through to gain awards for 'greening the church' through the Live Simply and Eco-Church programmes. Both experienced the challenges of getting the whole congregation engaged with the project, rather than just a few keen individuals, but both churches have seen unexpected benefits. In the Catholic parish, a plot of land has been turned into an allotment, the produce of which is cooked for parish social occasions and sold for profit to benefit a link with a South American parish trying to set up a seed bank. The gardening itself provides a welcome social activity for retired men of the parish. In the Anglican-Methodist parish, green sensibility has become 'what we do', making links with external organisations, and involving even those in the parish who were initially sceptical. Both saw the processes of gaining the respective awards as life-giving to the parish, and as a process of on-going development.
A Rocha's Dr Ruth Valerio spoke on 'Living Laudato Si where we are', with a real appreciation of the text, and particularly how it speaks to our lifestyle and spirituality. Ruth drew our attention to Pope Francis' critique of consumerism, and discussed ways we can redefine our understanding of progress. Care for creation requires that we change our habits and lifestyle, so she suggested ways we can develop more life-giving and sustainable habits. She also explored Pope Francis' notion of inner ecological conversion, linking our spirituality with the life of the Trinity pervading all of creation, a spirituality that takes time for Sabbath rest and for gratitude as well as action. She will be a speaker at the National Justice and Peace Network conference 21-23 July, which will focus on 'A Sabbath for the Earth and the Poor'.
With a plenary time for questions to the speakers, and stalls offering information about local and national activities, the day finished with the participants feeling enthused and invigorated to continue the work in their local parishes, encouraged that they are not a lone voice but part of a wider movement that is making a difference in communities around the world and around our dioceses. The day concluded with thanks and a prayer led by Helen Donlan and Fr Shaun Smith of the Hallam Justice and Peace commission.