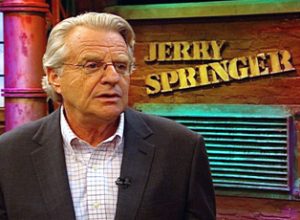 "Sunday, on MSNBC's "AM Joy," talk show host Jerry Springer suggested that White House Chief Strategist and former Breitbart News chairman Steve Bannon "has a philosophical goal" to "do away with a multicultural America," which is why he and President Donald Trump go after the courts and the media. "Bannon has a philosophical goal, and that is, as I said before, to do away with a multicultural America. He wants America to be basically Christian and white. So keep out the Mexicans, keep out the Muslims, etc.," Springer explained." –Source
Jerry Springer, for those of you that may not know, was a flailing politician in 1970 who ran for Congress and failed only to be elected to the Cincinnati council in 1971 and then resign in disgrace after admitting he purchased services from a brothel in 1974. Still, even though all that happened he was re-elected in 1974 showing all of us how corrupt the American voter has become. He then went on to become Mayor and then tried once to become Governor as well as attempting more than one run for the US Senate. But he wasn't done. His desire to destroy America from within pushed him to create the "Jerry Springer Show" wherein he flaunted all sorts of sick, disgusting and perverted lifestyles of the poor and infamous in the Chicago area.  
If you ever watched that show you know he constantly pushed the guests on camera into all out brawls on stage. He would actually ring a bell which everyone knew meant get those fists flying and then the so called security would jump in and act like they're stopping the fight. It made for great ratings and I am sure Satan watched the program daily smiling horn to horn. And while all this decadence and putrid perversion is displayed before the eyes of all our young people, who make up the bulk of his audience and guests, all of them applaud in open acceptance of the sinful craziness declaring it was a joy to behold. And was this prophesied you ask?
"And even as they did not like to retain God in their knowledge, God gave them over to a reprobate mind, to do those things which are not convenient;  Being filled with all unrighteousness, fornication, wickedness, covetousness, maliciousness; full of envy, murder, debate, deceit, malignity; whisperers,  Backbiters, haters of God, despiteful, proud, boasters, inventors of evil things, disobedient to parents,  Without understanding, covenantbreakers, without natural affection, implacable, unmerciful:  Who knowing the judgment of God, that they which commit such things are worthy of death, not only do the same, but have pleasure in them that do them." -Romans 1:28-32.
If you are a church member in the SDR church or has listened to my Internet radio station (WTPR) or have downloaded any of the sermons posted on this site you know I use the passage often regarding how the world has become a global Jerry Springer show. All that is sick, disgusted demonic and perverted is what Jerry Springer theology has always proclaimed and will continue to proclaim until the Lord puts an end to it all. And now he seeks to add racism to his plethora of demon inspired pastimes? His comments in this video will do nothing less that seed the flames of hatred and fan the flames of racism in America in the hearts of quite a few people and that is exactly why the mainstream media uses men like this. It will feed the already growing mindset that many people have thanks to all the media has done in this area which will then allow for an all-out race war which will bring on martial law. And as many other countries discovered, when the government locks down cities, trucks have a hard time getting in and that will make it very difficult to keep store shelves filled. And that will most assuredly bring on civil war so these politicians and politician wanna-bes can remain in office indefinitely. In short, it's all about the Vatican's long prophesied Socialist Agenda for the United States and then THE WORLD!
One final note. It's no mistake Springer a Jew, mentions his hatred of Christians in his commentary. Yes, the race card is an easy one to play, and the media uses it very well to fuel the riots we have seen the last few years; but when you tag Christans as part of the problem as he just did on national television, he is further building on the global hatred that is being cultivated towards God's people so as to help Satan recruit his Armageddon troops. I hope all reading have not been waiting for THE BIG SIGN in the sky before getting ready. That's just not happening. We've had plenty of signs confirming we are very near the end already. Waiting for more signs is just a waste of time as well as an open denial of God's Word regarding your need to get ready NOW. If you read a Bible, you know what time it is. If you don't, you better start TODAY.
 Additional Articles Confirming we are in the Last Days:
VIDEO:  Cops are called when woman challenges ACLU at event * Convicted Palestinian Terrorist Will Keynote Anti-Israel Conference in Chicago * CBO wants to kill more babies! * More than 250 skulls found in 'enormous mass grave * German official wants $53M fines for social media hate posts * Anger After Unvetted Migrants Hired To Walk Children To School * Venezuela: Woman Gives Birth in Supermarket (ration) Line * Human Smugglers Abandon 4-Year-Old Girl in Desert * VIDEO: 'South Asian' Men Break Woman's Nose in Anti-White Race Hate Attack * U.S. Sends Attack Drones to South Korea, Displays Aircraft Carrier Firepower * VIDEO: Police Seek Mother Who Allegedly Abandoned Child in Grocery Store * VIDEO: Woman Brutally Attacked by Man in Ladies Bathroom * Sanctuary Cities List Grows to Nearly 500, Notes Report * University of Minnesota Drops Homecoming 'King and Queen' in Favor of Genderless Alternative * Pakistanis had full access to Congress members' files, emails * Russian spy ship returns off U.S. coast, near sub base * FYI: Federal agents can search your phone at the US border — here's how to protect your personal information