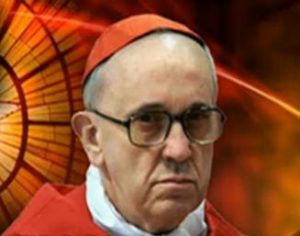 "The Vatican is taking a modern approach to one of its oldest traditions, by offering indulgences to Twitter followers of the Pontifex's social media account. …Under Catholic belief, after confessing and being absolved of sin, the indulgences granted reduce the amount of time one spends in purgatory, where one's sins are weighed after death. Under the Pope's new offer, those who follow the week's events on the Twitter feed can get a speedier transit through purgatory, hopefully on the way to heaven." –Source
Just so you know, the Roman Catholic dogma of  Purgatory is defined in their Catechism book in the following manner. "purification, so as to achieve the holiness necessary to enter the joy of heaven," which is experienced by those "who die in God's grace and friendship, but still imperfectly purified" (CCC 1030). It notes that "this final purification of the elect . . . is entirely different from the punishment of the damned" (CCC 1031). (Click here for more on Purgatory)  
As students of the Bible, and the basic truth on this is; even those that don't study Scripture daily but have read it at least once in life know, there isn't a single Bible verse to back this false doctrine up. It is 100% demon inspired just as prophecy predicted. (See 1 Timothy 4:1) However, Rome has gone so far to state in their official Catechism that Purgatory can be backed up by using one verse. They claim Revelation 21:27 shows the doctrine to be real when it speaks of Heaven by saying, "there shall in no wise enter into it any thing that defileth, neither whatsoever worketh abomination, or maketh a lie: but they which are written in the Lamb's book of life." But the Bible clearly says you cannot base a doctrine on just one verse. In fact, Isaiah 28:9-10 clearly says, "Whom shall he teach knowledge? and whom shall he make to understand doctrine? them that are weaned from the milk, and drawn from the breasts. For precept must be upon precept, precept upon precept; line upon line, line upon line; here a little, and there a little:"
In other words, if the doctrine cannot be shored up by another Bible verse confirming it to be light from on high, then it is not of God. This is why Jesuits use long explanations of single Bible verses when asked to clarify the passage. When Jesus taught He would use a Bible verse to back up a Bible verse. But when a Jesuit teaches he makes up doctrine out of the blue and then writes an entire 12 volume dissertation to back up his theology that is based on a single out of context Bible passage. That's how powerful truth in Scripture is. It takes volumes of lies to try and twist a single truth. Reason being is, the living Word is not something mankind can change. New light can never contradict old light and so the doctrine of purgatory is not only a doctrine of a demon, it purposely depicts our God as hateful, angry, sadistic as well as a bold faced liar!
How so?
Jesus said in John 14:21, "He that hath my commandments, and keepeth them, he it is that loveth me: and he that loveth me shall be loved of my Father, and I will love him, and will manifest myself to him." Does that sound like a God that enjoys placing people in the flames of Purgatory wherein the pain is just as real as if the flesh were on fire here on earth? And by the way, being an exCatholic I know how they taught you have to float in that flame of Purgatory without dying for millions of years to "purify" yourself while screaming at the top of your cooked lungs just to be able to get in Heaven? Basic reality is, who in their right mind would ever want to go to Heaven if you have to go through such hell for literally tens of millions of years first? No, common spiritual sense dictates that Purgatory sounds like a  doctrine from a crazed demon who loves to generate pain and suffering. That crazed dying demon is also known as Satan. And thanks to the prophecy of 2 Thessalonians 2:3 coming to fulfillment in our own lifetime, we all know that the Pope in Rome is not only the man of sin, he is also a Satanist according to the eyewitness account of literally billions by now. Being as such he will echo the hate and lies of his dying god in the exact same way a real Christian echoes the love and truth of the living God of creation.
As for the Pope declaring our God to be a liar. Did not Jesus Himself say in Matthew 5:48, "Be ye therefore perfect, even as your Father which is in heaven is perfect." And were not many declared "perfect" before God while still living on earth in God's Word? Take one example found in 1 Kings 15:14 that says "Asa's heart was perfect with the LORD all his days." 
Truth is, I see no mention of Purgatory from genesis to Revelation nor do I even see a doctrinal description that even suggests anything close to Purgatory in the Bible. In fact, if Purgatory was doctrinal truth, then what of Enoch and Elijah who were translated to Heaven without dying or even dealing with a split second in Purgatory? Is it not also written in Acts 10:34 "that God is no respecter of persons?"  We know the Word also says in Romans 3:10 that "There is none righteous, no, not one:" So if that is the basic Bible truth regarding all of mankind, then the dogma of Purgatory is calling our God a liar because if that Vatican doctrine is true, then God obviously favored Enoch and Elijah above all of us. But if you remove that Vatican lie, then the Bible holds true cover to cover for the sinner seeking salvation in Jesus Christ the Lord. So, why is the Pope claiming all have to be "purified" in Purgatory?
It all goes back to the prophesied fact that the Popes of Rome ARE ANTICHRIST!
How so? Purgatory is based on sin and the so called purification from it. And the dogma of Rome regarding absolution from sin is a big part of Purgatory as well as indulgences. Historic fact is, the Vatican was built on the coins conned out of the hands of millions when Tetzel went about declaring "for every coin in the coffer rings, another soul from Purgatory springs." Indulgences not only helped to build the Vatican we see today, it also allowed the Pope to con people into thinking they can get "time off" in Purgatory if they drop a few coins in the coffer. But because of manipulated economies that make the elite even richer, many cannot afford to do so for the Vatican today. And this is why the Vatican resurrected the lie of indulgences that Luther exposed in his day. This allows the Pope to once again appear as a god on earth that can absolve you of the sins or "purify" you to the point of getting time off in Purgatory if you follow him on Twitter. But the prophetic fact behind this is; one of the main characteristics of Antichrist is that he will blaspheme and actually claim to have the power to forgive your sins wherein only a Creator God can do that.
That being said, as expected, the Pope in Rome has made it that much easier for the obedient bride of Christ to expose him and his lies before those the Lord sends our way. And THAT is a prophecy most have witnessed fulfilled before their own eyes and in their own hearts for some time now. MARANATHA! 
Additional Articles Confirming we are in the Last Days:
VIDEO: Jeffress: God gave Trump authority to take out Kim Jong-Un * Churches going down in France, Mosques going up * VIDEO: Terrorists attack Burkina Faso restaurant * How to take away freedom in the name of freedom * VIDEO: Civil war on its way * FYI: Fleas are testing positive for the plague in parts of Arizona * Putin on Pope Francis: He is not a man of God, at least not a Christian God * Al Gore "Because of Francis, I could become a Catholic" *  VIDEO: Angola becomes 'first country to ban Islam' * VIDEO: NBC News: Hillary Clinton Covered Up Pedophile Ring At State Department * Trump advisors seek meeting with Pope after incendiary article * Vatican investigates claims against bishop after dozens of priests resign * French archbishop admits failings in response to pedophile scandal * HAPPENING IN USA: Alert: Fed Court Says Criticism of Islam Can Be Punished * Volunteer grave diggers: Canadian government asks funeral homes to prep for pandemic * FYI: 4000 apps secretly record your audio, steal info * FYI: Fukushima scientists: days of eating fish from the ocean are over * USs t-shirt company sells swastika design as 'symbol of love and peace' * VIDEO: President Donald Trump: North Korea Will Be Met With 'Fire And Fury' * VIDEO: Shattered faith: Nearly 100 sex abuse suits against Catholic priests rock island of Guam