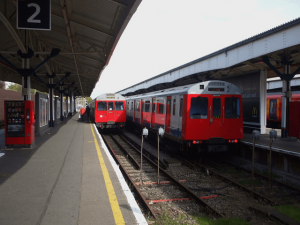 "An eyewitness to the incident told The Guardian newspaper the "well-spoken and calm" preacher started reading from the old testament and told the carriage: "Ladies and gentlemen, I'd like to talk to you about something and that something is the word of the Lord, Jesus Christ. He's here to heal your sins. The Bible tells you that homosexuality is a sin and sex before marriage is a sin. You need to repent." –Source
And believe it or not, that is what got the people to fly into a panic and literally jump off the train unto the tracks?! And why do you suppose that is? Well, look at how the media portrays Christianity now-a-days. Everywhere you look you see a Catholic priest being interviewed on camera regarding Christian topics, someone making the inverted sign of the Catholic cross on their bodies right before they go for the gusto in some televised sporting event, or some human interest story about how some dead Catholic saint supposedly helped some poor soul who prayed for a dying loved one.  
And so why is all that a problem you ask?
Well, first and foremost, Roman Catholicism is not Christianity. But because the media claims it is and the Pope claims to be a Christian leader, most people do in fact think the Catholic church is in fact a Christian church. For the biblical facts that graphically declare otherwise, see my November 2000 Truth Provided Newsletter on that. But with that in mind the frightened people on the train are also moved to recall to mind how the Islamic terrorists, who are not only promoted by the Pope and some US presidents as so called peaceful religion, the people with the ability to still think straight know it is not a peaceful religion when they see the news reports on terrorism as well as the many graphic videos of Muslims torturing or beheading Christians. And then reality sets in making them put 2 and 2 together regarding how Muslims are doing the exact same things to Christians as the Roman Catholic Vatican did during the Inquisitions. Every act or torture from the slow and torturous hands on flesh ripping act of beheading Christians to actually burning them alive. And so as all that reality begins to boil up in the mind, when these train passengers suddenly hear a Christian preacher echoing Bible Scripture, and because the prophecy declared in Luke 21:26 has literally been fulfilled in their own hearts, most people are extremely fearful today and so they can't help think the preacher is a Roman Catholic who's history shows there is no difference between the Islamic terrorist and crazed Vatican prelates, they naturally think the preacher with Bible in hand is about to kill everyone on the train just as Muslims have been doing with their Koran in hand, who by the way were called brothers in the faith by the present Pope just two years ago.
In other words.. As also prophesied, Satan has used Roman Catholicism and Islam to generate just enough fear in the hearts of billions into thinking that anyone with a Bible will kill them. And by the way, Satan fears the Bible more than anything else in the Universe because he knows anyone reading it will actually find perfect peace in Jesus Christ and out him as the dying god he is. Better yet, all the fearful things we see today that are not only prophesied to happen, Satan knows the Word of God brings peace deep the hearts of God's people making them aware that "no weapon formed against them can prosper" (Isaiah 54:17) and with that peace those obedient Christians can further expose his lies and he will lose souls from his damned trophy case.
That all being said, what do you think is the better choice for you and your family at this point in prophetic time? Ignoring the only book on earth that has been proven by billions to be the Word of the living God so as to cower in fear at every turn? Or opening that book to not only find that promised peace once you meet its Author, but to see exactly how to prepare you and your family for what's about to happen next? I mean after all, not only has the Bible been proven to be the Word of God that brings peace and hope, it has also been confirmed by billions to be the only book on earth with documented prophetic facts that have been fulfilled to the letter for literally thousands of years all the way up today when we hear of the fear people have in their hearts for a mere man preaching from that same blessed book on a train!
Additional Articles Confirming we are in the Last Days:
Former Rep. Frank Wolf: Christianity in Iraq Will 'End' Without 'Bold Action' * Bloomberg: American Officials Wary of Global Expansion of China's Military * Tropical Storm Nate kills 22 in Central America, aims for New Orleans * 'I Love Islamic State': Man Guilty of Showing Beheading Video to Child * NYTimes 'Conservative' Columnist Bret Stephens: Repeal the Second Amendment * Mexican Cartel Targets SUV Drivers for Carjackings near Texas Border * GRAPHIC: Cartel Kidnaps, Incinerates Mexican Border Congresswoman's Son * California Becomes 'Sanctuary State' with Gov. Brown Signature * VIDEO: EU Endorses Police Brutality in Catalonia as 'Proportionate Use of Force' * Swiss Government Admits It Does Not Know True Identities of 90 Per Cent of Asylum Seekers * Spike in Airborne Radioactivity Detected in Europe * Minnesota Man Racks Up 28th DWI Charge for Alleged Drunk Driving * California adopts 'bordello' plan for long-term care centers * VIDEO: 'Calm before the storm': Trump remark sparks foreign policy speculation * VIDEO: BURNED ALIVE Four toddlers burned to death and 25 injured after horrific arson attack on nursery 'by security guard' in Brazil* Japan earthquake: 6.0-magnitude quake strikes off east of country * New Jersey dad arrested after allegedly stealing from Walmart, abandoning dying son in car crash* VIDEO: Neonicotinoid pesticides found in honey from every continent * Nigeria: Panic, As Doctor, 10 Others in Bayelsa State Are Diagnosed of Strange Virus * VIDEO: KY Gov. encourages students to bring Bibles to school * VIDEO: Vicious sucker punch caught on video in Texas * VIDEO: Oklahoma Man Arrested for Allegedly Devising Plot Inspired by Las Vegas Mass Shooting * VIDEO: Terrifying Surveillance Video Captures Thieves Roaming Through Home with Guns Drawn