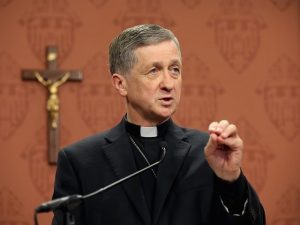 "(Roman Catholic Steve Bannon said) "The [Catholic] bishops have been terrible about this. You know why? Because unable to really … come to grips with the problems in the Church, they need illegal aliens, they need illegal aliens to fill the churches … They have an economic interest in unlimited immigration, unlimited illegal immigration._ (The Archbishop said in return) "Yes, in fact, he even went so far as to say that we wanted to increase our collections as a result of that. That it was a monetary, a financial decision which I think Cardinal Dolan found laughable, as I do. We budget quite a bit of money every year in order to assist people who are migrating here, people who are trying to enter into our society and be a part of the American dream." –Source
The "American Dream?" He actually said that as a rebuke to what Bannon said? That statement alone proves Bannon was 100% correct! This Bishop claims the Church's activities regarding how they help immigrants and many of them are in fact illegal immigrants, is not about the financial benefits. If that's so, why mention the "American dream" which is all about becoming financially successful to the point their donations to the Catholic church will indeed go up?  
Besides the fact we once again see a Roman Catholic politician butting heads with a Vatican prelate, the basic reality here is that the Vatican has been instrumental for literally decades in helping Roman Catholic illegal immigrants find a place to live in America legally or even illegally. The other toss of the coin on this, which is beside the fact that yes, more Catholics mean more money for each church; I mean that's just first grade mathematics. But the other side of the coin here is power. Yes, the Vatican needs that money those Catholics bring in so as to assure the means to pay for the politicians that grant them their power. While at the same time, we know for a fact every immigrant they set up is one that will most assuredly vote in ways the church that helped them find a place to live in America demands of them. The money they bring in, the votes they cast, all of it has to do with what the Church of Rome has been working towards for centuries and it is also what they have been stating in writing for nearly a century regarding their plans to make America Roman Catholic.
And for those that think I am talking out of my tinfoil hat on this; notice their well-documented words forever etched in writing so as to both expose them for who they were prophesied to be as well as confirm the prophecy regarding the end time plans of the man of sin in Rome.
"The Roman Catholic motto is ourselves alone for fellow Roman Catholics. We must defeat all heretics (non Catholics) at the ballot box. The holy father states that negative tactics are fatal. The demands of the holy father (the pope) are that the public services should be 100% Roman Catholic soon. Care must be taken that no suspicion may be raised when Roman Catholics are secretly given more government jobs than Protestants, Jews and other heretics." -Archbishop Gilroy
"There is, ere long, to be a state religion in this country, and that state religion is to be Roman Catholic." -Father Hecker, Catholic World, July 1870
"There is one, and only one, sure democracy, the Catholicism of the Popes" -The Catholic World, Oct, 1937.
"There is, ere long, to be a state religion in this country, and that state religion is to be Roman Catholic." -Father Hecker, Catholic World, July 1870
NOW NOTICE WHAT GENERAL LAYAYETTE SAID:
"If the liberties of the American people are every destroyed, they will fall by the hand of the Roman Catholic cult's clergy."  –General Lafayette under President George Washington
For many more quotes like this, visit http://www.remnantofgod.org/beastword.htm#government
Additional Articles Confirming we are in the Last Days: 
College course teaches students about 'queering the Bible' * VIDEO: GOP Rep Gaetz: 'We Have Email Evidence From Andrew McCabe Indicating That Hillary Clinton Was Going to Get a 'HQ Special" * Dozens Feared Dead In Massive Shopping Mall Blaze In Philippine City Of Davao * Philippines storm death toll tops 200, tens of thousands displaced * FYI: Kids toys listening in on bedroom playtime * Vatican's UFO agenda moving ahead: UFOs 'proved beyond a reasonable doubt' says former leader of US top secret program * FYI: Leafy vegetables may make your brain seem 11 years younger * VIDEO: Judge Orders Trump's Voter Fraud Panel To Hand Over Documents To Democratic Member * The AI chip startup explosion is already here * FYI: VIDEO: Edward Snowden's new app turns any Android phone into a surveillance system * Blood-smeared man smiles in mugshot after 'stabbing mother to death' * Killing Kim Jong Un: Inside South Korea's Elite 'Decapitation Unit' * Deputies Fatally Shoot 6-Year-Old In His Home While Firing At Suspect * AMA wrong again! Baby slated for death of crippled life now THRIVING * NYT Lauds 'Mercy' of NYC Bomber, Hails 'Army of Darkness' Group as 'Peaceful Muslim Outreach Org' * Germany Needs An Extra 2,000 Judges and Prosecutors to Process Fivefold Increase in Terror Cases * Venezuela 2017: Socialist Policies Take Humanitarian Toll as Country Enters Dictatorship