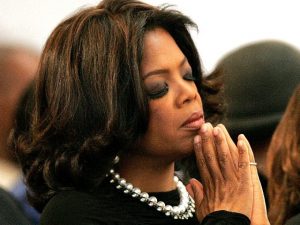 "Entertainment mogul Oprah Winfrey told People in an interview published this week that the one thing that can get her to run for the presidency is if God provided her with a "clear" sign that she should do it." –Source
Notice how they make it a point to show Oprah in prayer in the article. Have you seen the videos of Oprah denying Jesus Christ is Lord so as to generate "another Jesus" as the prophecy predicts many will do today? There are so many now all I can do is give you a link wherein they are listed on YouTube. And so it is obvious the god she prays to is not the Jesus of the Bible. Still, if she decides to run she will claim that the God of Heaven told her to run.
Now I doubt seriously that she will run as she knows nothing about politics or how to run a nation. But, in today's world wherein we have seen puppets in the White House the last few decades, anything can happen. But I will say that the timing of her announcement is perfect as anyone that saw my last video can see. The talk of religion in politics is ramping up so as to normalize political religiosity in the minds of the American people because as prophesied the need for religious laws is a must if they are ever going to be able to enforce the mark of the beast. Which as I illustrated in my last video is in fact a religious law. And so it's obvious as to why Oprah made this announcement when she did.
And think about this as well. If who she calls god doesn't speak to her telling her to run for office, then all she did by her announcement was to bow to her dying god so as to use her popularity to keep the religious banter active in the media. But if she decides to run; she will be able to escalate her so called religion in politics because the common sense question to ask is, what do you think will be the very first question every single News reporter will ask her on day one of her political campaign? You guessed it, they will ask her what sign God gave her that made her know it was time for her to run for president; and so right from jump street her campaign will be drenched in religiosity because she will be known as the candidate "God" officially endorsed. And even though she isn't a Christian as per accurate biblical definition, like Obama who we have a mountain of evidence confirming he was not a Christian as he claimed, she too will claim to be a Christian to garner the votes in this supposed Christian nation. And then it will be far easier for her to sell the idea for religious law. Especially when main stream prosperity preachers honor her before the masses in their televised church services.
And why in these last days wherein the sins of mankind declare it to be an evil and adulterous generation is someone as popular as Oprah Winfrey asking God for a sign? It's because of what Jesus said in Matthew 12:39, which was that "An evil and adulterous generation seeketh after a sign…" And so it was expected that someone like Oprah who denies Jesus Christ as Lord and has promoted a new-age movement that embraces Satanic theology would be puffed up by the powers that be in this sin sick world. The fact that she believes that God is jealous of her proves, Satan has a tight grip on this woman and so, please pray for her.
Additional Articles Confirming we are in the Last Days:   
Trump faith adviser: We're in 'heart' of policy conversations * Christian students' club on probation for following Christian ethics * Famous Bible verse too sizzling for Facebook * Mind-boggling arrest of Christian at abortion clinic * Judge cites Pope Francis to justify ending baby's life against parents' wishes * VIDEO: Additional deputies did not enter Florida high school during shooting: report * Speeding jeep kills 9 schoolchildren in eastern India * School teacher accused of snorting pills in front of kids * FYI: VIDEO: Secrets To Avoid Getting Mugged: A Veteran Thief Reveals All * Global Warming? Rome blanketed by snow as Arctic storm sets European records * VIDEO: Purdue writing guide says avoid use of words with 'man' * VIDEO: 10 Things That Would Happen If The Earth Was FLAT * VIDEO: Tucker: Gov't at all levels is villain in Parkland massacre * CENSORED: Amazon, Apple, YouTube Urged to Cut Ties with NRATV * Global WARMING? Rome AGAIN sees rare snowfall as arctic cold front freezes Europe * DACA Illegal Alien Arrested for School Shooting Threats in New York * Teen Girl Missing from Kentucky Found Being Held Prisoner by Illegal Alien in South Carolina * Super-secret spy court raises alarm over feds' snooping * Grade school kids will attend another campus Wednesday because of gun blessing ceremony at Poconos church * Flood fears rise as wicked storm system tears across southern, central U.S. Over 200 rivers ABOVE flood stage! * Evangelical pastor seeks support for environmentalism * VIDEO: Foods AND tornadoes in Central US * GOVT CORRUPTION: 'There's enough to arrest Hillary now' * Broward deputy works for 'Muslim mafia' * Openly homosexual conservative is Germany's 'anti-Merkel' * GOVT CORRUPTION: Obama Admin Official Who Helped Anti-Trump Dossier Author Was Exec at Lobbying Firm for Russians Who Bought Uranium One * GOVT CORRUPTION: Jonathan Winer, Chris Steele's Inside Man at State Dept, Was Exec at Firm Working for Clinton Global Initiative * Nigeria Pulled Troops Out of Region a Week Before Boko Haram Abducted 110 Girls * CENSORED: VIDEO: The Purge: YouTube Mass-Censors Conservatives, New Right, Classical Liberals * Venezuelan Inmates Eating Rats and Pigeons to Avoid Starvation * Serious warning (that will be ignored) about the dark side of A.I. * VIDEO: Notice how long it takes the prison guards to appear * South Africa's Parliament Passes Motion to Take Land 'Without Compensation' * Another U.S. Cop Accused of Helping Drug Traffickers * CENSORED: Google Appears to Remove All Shopping Search Results for Guns — Even Water Guns, 'Guns and Roses,' 'Burgundy' * 20 States Sue Federal Government, Hoping to Repeal Obamacare 'Once and for All' * UK Prisons Recruit 'Pagan Chaplains' on £30k-a-Year Salaries * Report: More Than 100,000 Non-Citizens Are Registered Voters in Pennsylvania * 5-year-old dies after doctor turns her away for being late * Taxpayers paying for more VA corruption * Son knocked dad out in fight over dinnertime texting: cops * CENSORED: VIDEO: YouTube is Shutting Down Conservative Criticism of CNN over Parkland Shooting * Delingpole: The Shocking True Story of How Global Warming Became the Biggest #FakeNews Scare of All Time (Pt 1) * CENSORED: China Bans 'Re-Election,' 'I Don't Agree' from Social Media Following Xi Term Limit Repeal * CAPTIAL OF THE WORLD? : Netanyahu: Other Countries Will Follow Trump's Jerusalem Move * VIDEO: Man arrested for attacking woman with chainsaw in Florida * FYI: VIDEO: Flooded vehicles being sold in NC – can you spot one? * FYI: VIDEO: THIS IS THE MOST POWERFUL ARGUMENT I HAVE HEARD AGAINST SANCTUARY CITIES IN AMERICA * VIDEO: College accused of ignoring harassment of conservative * Global Warming? VIDEO: UK weather: Sea freezes over at Isle of Wight harbour – BBC News * Fatah Gives Fully Furnished Apartment to Family of Terrorist Who Killed Rabbi * CENSORED: Report: Far-Left SPLC Helping YouTube Police Videos as Conservatives Increasingly Censored * VIDEO: White House Chief of Staff Kelly: I Didn't Want to Leave DHS But 'God Punished Me' * 'You Listen to Us Now': Putin Reveals Nuclear Weapons He Claims NATO Cannot Intercept * FYI: Facebook Keeps Secret Files on Internet Users Habits – Here's How to Find Yours * CENSORED: YouTube Moves Towards Banning Conservative Vlogger for Correcting Parkland Shooting Conspiracy Theory * Constitution put 'in the shredding machine' by state supremes * It's 'crime' not to teach children terrorism * Abortion Clinics Grind Up Remains of Aborted Babies and Flush Them in the Sewer * Healdton schools use bulletproof storm shelters to keep students safe * Are these talking points to remove Constitution? * CENSORED: 'Hate' group influencing YouTube? It's much worse! * VIRAL VIDEO: Man reportedly kicked out of McDonald's after buying homeless man food