Transcript starting 3:30: "Our global economy is undergoing deep transformation. The energy transmission, the consequences of covid, the reshaping of supply chains are all serving as catalyctic forces for the economic transformation. The most critical fragmentation is between those who take a constructive attitude and those who are just bystanders… But the spirit of Davos is positive, its constructive." [KlauS Schwab-WEF, Davos 2023]… (Start at 8:02) – [WEF]: "We have to save this planet to save our freedom and the way we're living. And we're not good enough yet. We have to improve." "I feel that, you were talking about development, i think indeed we don't need like growth or development. I really think less is more and I'll leave it at that." [Laura] – No more development. None for you. No more growth. It's back to the stone age. Well, beneath all their breathless blaster about sustainability and global equity, lies the truth about the globalist's real goals. Look, we're not experiencing a planetary emergency. They are experiencing a power emergency, meaning, theirs is in jeopardy. Protecting their own purchase in influence and money, consolidating their power by any means necessary is their aim. So your modes of transportation, your food sources, how you cook your food, your right to self-defense, your right to free speech, even your right to own property, would be sacrificed for the greater good." Youtube Source: Fox News.
If you go to the Youtube source, notice the NWO context added by Youtube below the video saying that the New World Order is a 'conspiracy theory'. Is this one reason why the U.N. chief urges legal 'accountability' for social media amplifying 'false information'?
What about a VIP driver at Davos says he's not allowed to drive elites in electric vehicles? So obvious, the global elites who are pushing for energy transmission and the like are not affected by it. So goes the saying, "Do as I say, not as I do."
As a Bible student, we know that prophecy revealed a New World Order or a One World Government under the rule and banner of Vatican beast will be formed before the return of our Lord and Saviour Jesus Christ, to control the world in opposition to God's government.
Notice what Daniel 2:44-45 says, "And in the days of these kings shall the God of heaven set up a kingdom, which shall never be destroyed: and the kingdom shall not be left to other people, but it shall break in pieces and consume all these kingdoms, and it shall stand for ever. Forasmuch as thou sawest that the stone was cut out of the mountain without hands, and that it brake in pieces the iron, the brass, the clay, the silver, and the gold; the great God hath made known to the king what shall come to pass hereafter: and the dream is certain, and the interpretation thereof sure."
The fact that we can read, see, and hear this narrative in the news and in public and not hiding this satanic agenda anymore, is a proof that we are now nearing to see the fulfilment of this prophetic event.
We have to get ready and be ready spiritually! Study your Bible daily and pray diligently!
God's word is truth! – John 17:17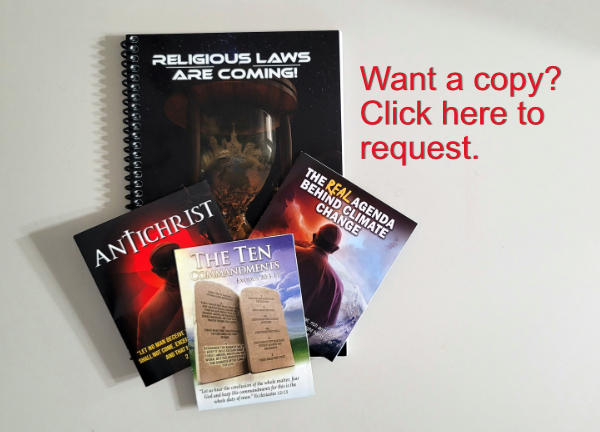 Get a free copies of our available tracts so you can distribute to others if you want to be a part of the prophesied remnant movement giving the loud cry.