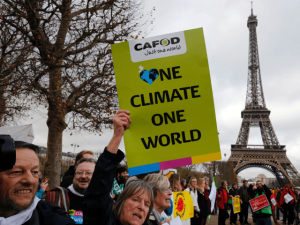 "A high-level whistleblower at the National Oceanic and Atmospheric Administration (NOAA) has revealed that the organization published manipulated data in a major 2015 report on climate change in order to maximize impact on world leaders at the UN climate conference in Paris in 2015. According to a report in The Mail on Sunday, NOAA scientist Dr. John Bates has produced "irrefutable evidence" that the NOAA study denying the "pause" in global warming in the period since 1998 was based on false and misleading data. …Dr. Bates accused the lead author of the paper, Thomas Karl, of "insisting on decisions and scientific choices that maximized warming and minimized documentation." Bates says that Karl did so "in an effort to discredit the notion of a global warming pause, rushed so that he could time publication to influence national and international deliberations on climate policy." –Source
Oh perish (or Paris) the thought! How on earth could this ever happen? Just because students of prophecy have been declaring they would do this for well over a century and everyone breathing air on this very same planet also know the planet is in no way, shape or form "warning" as the Popes in Rome keep claiming, it doesn't mean Christian prophecy is right. Or wait a minute… that's exactly what it means.  
You see? This is why the obedient remnant of her seed today, as well as when the 9th hour church (now fallen under the pressure of Rome) was actually walking in obedience over 100 years ago, this is why we were (back then) and are (today) so very hated. All along the Bishop of Rome (now Pope) has known for centuries, in fact since it prophesied inception in 538AD that as back then, today as well there will be real Christians walking this earth who know long before anyone else what the Popes of Rome will do. They hate it when we proclaim today what the Pope plans to do tomorrow because it not only exposes them as the prophesied home to Antichrist, it lends credence and hard core believability to the message we have been called to proclaim when they do EXACTLY as the prophecies in the Word predicted. And yes, that means most get angry with us and actually hate us because unlike all the other churches that cannot see or even preach what we see, don't like it when their doctrinal stand and end time complacency is exposed when the light of truth is shined upon it. Some even get upset because they know their pastors cannot effectively warn anyone of anything because the basic Bible reality here is, in order to understand prophecy you must be obedient.
One last thing:
Did you notice the pic they posted? As we have been proclaiming for decades; the Pope will use the climate change agenda to move all political leaders into his comfy and greatly soiled bed of demonic corruption and control. Once he does that, he will go after each and every citizen on earth to join in unison as a "universal" (Catholic) church to help the planet we all reside on. But.. have you noticed? All the nations already joined with the Pope on this when they signed the COP21 Paris agreement on April 22, 2016 which then became global law on November 04, 2016. So all that's left for them now is to go after the people that are ruled by the leaders that signed onto that long prophesied agenda.
The poster confirms it
As you can see, the poster in the pic reads "ONE CLIMATE ONE WORLD." It was obviously put front and center in the ad which without their knowing exposed the Vatican's one world government plans which will in fact lead to the mark of the beast in Rome. This is exactly what students of prophecy have been saying almost word for word will happen for decades. The Pope needed a "global problem" wherein he can move the second beast to convince the churches to join with him in a church & State conglomeration wherein they eventually "speak and cause" a global law to be enforced on every citizen that they claim will help all of mankind escape the wrath of God due to the increase in calamities.
The Pope's climate change agenda is now confirmed to the point even a babe in Christ can see to be that very same prophesied agenda the obedient remnant of her seed have been moved by God Himself to warn the people of for years. In fact we have been declaring as such for decades long before that poster was ever placed before the camera which later became the pic that was posted in the article that is now posted on this ministry blog. Christian prophecy is THAT accurate!
 Additional Articles Confirming we are in the Last Days:
Christian Clergy Welcomes Islam in Church, Then Bows to It * Preacher Locked Up, Charged with Hate Crime for Quoting Bible to Gay Teen * UN Gay Rights Envoy: Religious Freedom 'Not an Absolute Right' * Italian priest faces defrocking for 'organising orgies on church property' * VIDEO: Video: Planned Parenthood insiders confirm abortion quotas * VIDEO: Mom furious after daycare worker breastfed her son * VIDEO: White House releases list of 'under-reported terrorist attacks' * VIDEO: Was Buffalo mom jailed over homeschooling decision? * VIDEO: Climatologist says global warming is a hoax * Italy to train Muslim imams on constitution to 'create climate of tolerance' and fight radicalisation * VIDEO: SICK: Planned Parenthood Abortionists SING "This Little Light of Mine"   * 'Several Injured' After 'Explosion' At French Nuclear Plant