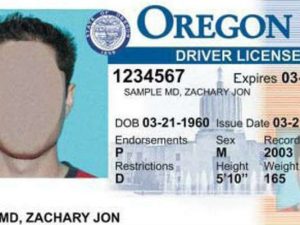 Oregon decided it will go along with the federal government's tougher standards for driver's licenses, so the state's travelers may not have to show a passport to board a plane.
The state has missed a federal deadline for compliance with federal Real ID laws, so if the federal government doesn't grant a fourth extension on the requirements, Oregon's ID will not get you on a plane beginning Jan. 22.
Lawmakers are hoping their  56-1 vote in favor of Real ID for Oregon — in Senate Bill 374 — Thursday will demonstrate the state is making "serious and significant" progress and the feds will grant the extension.
If the feds grant an extension, Oregon's current IDs will continue to work at the airport and federal facilities until the state begins issuing compliant IDs.  
The Oregon Department of Transportation figures it can have them ready by July 2020 at the earliest.
"This will be necessary to get on a plane even for domestic flights. Even if you get on Portland and go to Seattle you'll need a Real ID, or failing that a passport," said Rep. Mike Nearman, R-Polk County, said Thursday. "It's necessary we get this done to keep the engines of commerce moving."
The Senate passed the bill June 26 on a 28-to-2 vote. After concurrence by the Senate, the bill soon goes to Gov. Kate Brown for a signature.
Portland International Airport safety officials anticipate a chaotic scene on January 22, 2018, if Oregon doesn't get the sought-after reprieve from the federal government.
That's the day that the Transportation Safety Administration will stop accepting Oregon driver's licenses as ID to board a plane.
"PDX operations and security staff will prepare to manage a potential event in the terminal (on Jan. 22) as there will likely be a significant amount of confusion and anger among affected passengers," Christopher Neal, the airport's director of safety and security, told lawmakers recently.
Congress adopted Real ID requirements for state IDs in 2005 in an attempt to thwart terrorists' ability to gain access to vulnerable places (flights, nuclear power plants) by using fraudulent identification.
The law requires security features — such as license photos that can be read by facial recognition software — and more rigorous background checks for motor vehicle licensing staff and stricter-than-normal verification procedures for driver's license applications and supporting documents.
Until now, Oregon resisted Real ID for a number of reasons: cost, privacy concerns and a reluctance to cede authority to the federal government.
ODOT's plan is to continue issuing its standard licenses but also issue Real IDs to drivers willing to pay a premium and provide additional documentation proving identity, residency, lawful status, date of birth and Social Security number.
The agency does not have a clear idea how much it will cost to run the program or how much each driver who wants a Real ID will pay, according to state documents. The sum is uncertain because the agency doesn't know how many Oregon drivers will want the ID and the agency's cost of doing business is coincidentally up in the air because it's embarking on a $90-million computer system upgrade and work process change.
The agency doesn't know, for example, how many employees it will take to do the Real ID work, how long it will take to scan in all the required documents or how long it will take to cross check each applicant with the required federal databases.
The agency issues about 177,000 new driver licenses annually and 335,000 renewals each year.
The Legislative Revenue Office estimated costs of $579,023 for 2019-2021 to get the system up and running, but there's no estimate for the ongoing costs. Ongoing costs would include the cost of background checks on new agency employees as they are hired and continuing tolls for use of the federal data.
The Oregon licenses would have to be redesigned with a black star to signal Real ID compliance or a warning, saying "not acceptable for federal purposes," on the standard driver's license.
Oregon to date has had a love-hate relationship with Real ID. In 2008, lawmakers took a first step toward the program by requiring drivers to supply proof of citizenship or legal presence in the United States.
The next year, the Legislature passed the law that prohibited ODOT from complying with Real ID unless the federal government covered the cost.
Lawmakers were also uneasy about the civil liberties implications. The Real ID law requires ODOT to scan drivers' documents and to hold them in a database for 10 years, which would create a major trove of personal data, according to the Oregon ACLU.
Real ID could also be a step toward a national identity card system, the ACLU warned.
5 things to know about Real ID in Oregon
Passage of Senate Bill 374 may be enough to show Oregon is serious enough to gain a fourth extension from Homeland Security.
ODOT says it'll be ready to issue Real IDs by July 1, 2020, at the earliest.
Homeland Security said it will be done granting extensions after Oct. 21, 2020.
If an extension isn't granted, Oregonians still can use passports to board planes and gain access to certain federal buildings.
To get a Real ID under the proposed bill, Oregonians will have to document their identity, residency, lawful status in the United States, even if they've done that before. In addition, they'll need an official document showing their Social Security number.