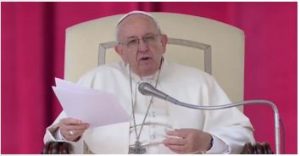 "VATICAN CITY – Pope Francis criticized people he called "fake Christians" and "Mafiosi" on Wednesday. The Pope held his weekly audience in St. Peter's Square at the Vatican. Speaking to thousands of faithful, Francis said "fake Christians" who claim to follow Jesus but who lead corrupt lives will "meet a bad end." He called out "Mafioso Christians," saying they "carry death in their soul and to others." –Source
While all that may be true, one has to keep in mind that the Pope of Rome is in fact the prophesied man of sin and so he will mix truth with error so as to lure many into his camp. And so just as a Christian allows the Holy Spirit sent forth by the ever living God of creation to move their tongue when speaking truth unto the people the Lord sends their way, so will the Pope use the unholy spirit of his dying god to speak lies unto the people sent his way. And so when he speaks of being a good Christian he is actually talking about being a good Catholic and anyone refusing to do as he teaches is a fake Christian. We must do as Jesus stated when it comes to examining the fruits of those who claim Jesus to be their Lord. After all, was it not prophesied by Paul in 2 Corinthians 11:4 that many will "preacheth another Jesus, whom we have not preached…" And did not Jesus Himself state in Matthew 24:11 that "many false prophets shall rise, and shall deceive many" in our day?  
And so with that said. Let's see if Roman Catholicism actually preaches the Jesus of the Bible, or do they in fact preach "another Jesus" as Paul warned. And since the Bible says in Isaiah 8:20, "To the law and to the testimony: if they speak not according to this word, it is because there is no light in them;" Let's us look at what the Pope defines as Christianity via their own Catholic teachings. For if what he teaches is not in the Bible, then it has not the light of approval from Heaven and therefore not to be believed by obedient Christians.
The Popes of Rome teach that Mary was born without any sin. Yet there is not a single Bible verse to back that up. In fact, Mary herself said in Luke 1:46-47, "And Mary said, My soul doth magnify the Lord,  And my spirit hath rejoiced in God my Saviour." And when speaking of Jesus she also said in John 2:5, "His mother saith unto the servants, 

Whatsoever he saith unto you, do it

."

The Popes of Rome teach Mary is co-redemptrix. Yet you will not find a single Bible verse to back that up. In fact, when speaking of the name of Jesus Christ it says plainly in Acts 4:12, "Neither is there 

salvation

 in any other: for there is 

none other name under heaven given among men, whereby we must be saved

."

The Popes of Rome declare Mary is the Queen of Heaven, yet there is not a single Bible verse to back that up. In fact, when speaking of a Pagan goddess that the people bowed in worship to in Jeremiah's day it says this in Jeremiah 7:18, "The children gather wood, and the fathers kindle the fire, and the women knead their dough, to make cakes to the queen of heaven, and to pour out drink offerings unto other gods, that they may provoke me to anger."

The Popes of Rome teach that every Catholic must address him as "holy father" yet there is not a single Bible verse to back that up. In fact, there is only one place in the Bible wherein the term "Holy Father" is used and that is found in a prayer of Jesus Christ to His Father in Heaven in John 17:11, "And now I am no more in the world, but these are in the world, and I come to thee. 

Holy Father

, keep through thine own name those whom thou hast given me, that they may be one, as we are." And so to call the Pope holy father is to blaspheme. And yes, prophecy does say the man of sin will not only blaspheme, he will demand all that bow to him do so as well.

The Popes of Rome teach all Catholics must go to their local priests to confess their sins who will then forgive you of those sins, yet there is not a single Bible verse to back that up. In fact we see to make such a claim is also blasphemous as Mark 2:7 clearly says, "Why doth this man thus speak blasphemies? 

who can forgive sins but God only

?"

The Pope teaches that erecting statues and even bowing before them in prayer is acceptable when not only is there not a single Bible verse to back that up, there are many that say not to do so is in. Notice commandment #2 which by the way was removed from all Roman Catholic Catechism books to hide the fact those statues are means by which to force their flock to sin before God. It says in Exodus 20:4-6, "Thou 

shalt not make unto thee any graven image, or any likeness of any thing that is in heaven above, or that is in the earth beneath, or that is in the water under the earth: Thou shalt not bow down thyself to them, nor serve them

: for I the LORD thy God am a jealous God, visiting the iniquity of the fathers upon the children unto the third and fourth generation of them that hate me; And shewing mercy unto thousands of them that love me, and keep my commandments."

The Popes also teach you must acknowledge the wafer they call the Eucharist that is made by the human hands of nuns as an actual temple of Jesus Christ incarnate even though there is not a single Bible verse to back that up. In fact, it clearly says in Acts 17:24, "God that made the world and all things therein, seeing that he is Lord of heaven and earth, 

dwelleth not in temples made with hands

;"

And finally the Popes of Rome declare the Sabbath was changed from the 7th day to the 1st day of the week when even they themselves admit in writing there is not a single Bible verse to back it up. In fact, there are dozens of Bible verses from the Old to the New Testament that declares the Sabbath was and always will be kept by the obedient people of God because the Holy Spirit within them wrote His law upon their hearts to help them keep it. In fact, it says in Exodus 31:16, "Wherefore the children of Israel

 shall keep the sabbath, to observe the sabbath throughout their generations, for a perpetual covenant

." And according to the Bible, anyone declaring Jesus Christ is Lord is considered "Israel" by the God of Heaven. In fact, it says in 

Romans 9:6-8 it says that, "…

they are not all Israel, which are of Israel

: Neither, because they are the seed of Abraham, are they all children: but, In Isaac shall thy seed be called. That is, 

They which are the children of the flesh, these are not the children of God

: but the children of the promise are counted for the seed." And 

Galatians 3:29

 

says that "

if ye be Christ's, then are ye Abraham's seed

, and heirs according to the promise." And so what is that promise? Galatians

 

3:14

 

says, "That the blessing of Abraham might

 

come on the Gentiles through Jesus Christ

; that we might receive

 

the 

promise of the Spirit

 

through faith

."
I go into much more detail regarding the name Israel on my website as well as in a video I made some time ago for those that may have questions on this doctrine. And the unChristian fruits of Roman Catholicism that I just listed here are nowhere near as many proofs that confirm Catholicism is not Christianity. I also have this listed online in much more detail. Roman Catholicism is exactly as it was prophesied to be. They preach another Jesus. Or in today's language, Roman Catholicism is in fact FAKE CHRISTIANITY.
Additional Articles Confirming we are in the Last Days: 
Adventist Pastor Charged With Sexually Assaulting Girl *  Palm Sunday in Cuba: Dozens of Women Beaten, Arrested for Practicing Christianity * Florida House approves bill to post "In God We Trust" in all public schools * FYI: The One Thing That Protects a Laptop After It's Been Stolen * FYI: VIDEO: (Graphic Language) See how easily freaks can take over your life * VIDEO: Lab-grown 'clean' meat could be on sale by end of 2018 * VIDEO: Facebook Says Zuckerberg Won't Give Evidence to U.K. Lawmakers * Mount Holyoke College for women tells professors to avoid the word 'women' * 'Gender-neutral' Swedish preschools teach boys to wear dresses * VIDEO: Graham: 'I Want Every Democrat' to Answer Whether They Want to Repeal the 2nd Amendment * FYI: Report: Facebook 'Transparency' Function Blocks Users Who Get Too Curious * Facebook Loses $70 Billion in Market Value over Last 10 Days * FYI: Report: Facebook Donated $200K to Combat California Data-Privacy Initiative * 'The Best Preparation for War': China Launches South China Sea Drills * ANOTHER blow for free speech * FEC needs to probe Obama and Facebook, says ex-commissioner * Cambridge Analytica Whistleblower: Facebook Able to Listen to You at Home and Work * VIDEO: Satellite images reveal show of force by Chinese navy in South China Sea * Man Accused of Raping Girl in Oregon Is a Twice-Deported Illegal Alien * Al Sharpton's Half-Brother Charged with Capital Murder Day After Attending Gun Control March * Sweden: Deadly Violence at Highest Level Since Records Began * States scrambling to avert Obamacare sticker shock after Dems balk at stabilization effort * FYI: WOW! VIDEO: GRAPHICInappropriate teaching in Toronto schools * FYI: VIDEO: How to delete your Amazon account (VERY annoying!) * Investors Ask Banks, Gun Makers, and Gun Retailers to Cut Ties with NRA * Vatican Refuses to Disavow Pope's Alleged Denial of Hell * AGAIN Philippines: Christians Nailed to Cross in Good Friday Observances (Why has no Pope ever stopped this blasphemy?!) * Sweden Withdraws Child Marriage Booklet After Public Backlash * Obama's Welcome for Migrants Allowed 'Chemical Warfare' on Americans * VIDEO: Larry King: Time to Repeal the 'Poorly Written' Second Amendment * Billionaire Investor: 'Sinister' Facebook Could Face 'Decimation' over User Data Scandal * Vatican now denies pope said hell doesn't exist * VIDEO: BREAKING: California AG Threatens to Arrest Orange County Sheriff for Assisting ICE * WOW! Growth At Any Cost: Top Facebook Executive Defended Data Collection In 2016 Memo — And Warned That Facebook Could Get People Killed * VIDEO: Florida school shooting suspect gets 'piles' of fan letters WHAT?! * VIDEO: China using AI and facial recognition to fin JAYWALKERS! * FYI: Children's YouTube is still churning out blood, suicide and cannibalism * Study: 70% of Europeans see rapid population growth of Muslims as a serious threat * FYI: Report: Cambridge Analytica hasn't deleted all of its collected data * Why the Leaked Facebook Memo Is So Dangerous for Zuckerberg